UK arm of Swedish energy specialist will harness waste heat to warm homes on regeneration scheme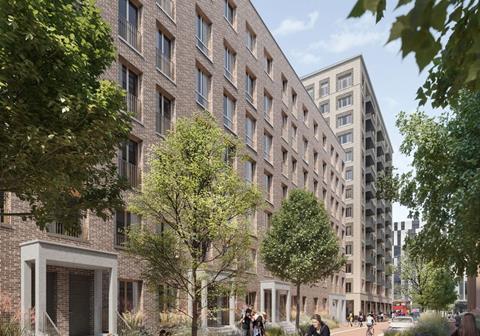 Swedish energy group Vattenfall is in the running to secure the contract to supply energy to the Brent Cross South regeneration scheme after being chosen as the project's preferred partner.
The district heating network being developed by Vattenfall's new UK Energy Solutions operation will harness waste energy taken from the air and the ground to go into 6,700 homes (pictured) being built across the 180-acre scheme.
Although exact details of the technology have yet to be revealed, Vattenfall said the system will feature a mix of low-carbon plant which will include the UK's largest installation of heat pumps.
Vattenfall said it currently provided heating to two million customers in Sweden, Germany and the Netherlands.
Mike Reynolds, head of Energy Solutions UK and managing director of Vattenfall Heat UK, said Brent Cross South was the firm's first major heat network project opportunity in the UK.
"We have already started working closely with the development team on technical specifications and we hope to bring our best practice approach from across Europe to this flagship development in London.
"In the coming years we hope to deliver a new benchmark for high-quality, future-proofed, low carbon infrastructure," Reynolds added.
Urban regeneration specialist team Argent Related formed a joint venture with Barnet Council three years ago to design and develop a mixed-use neighbourhood at Brent Cross South.
The project, which already has outline planning consent, is part of a wider £4.5bn Brent Cross regeneration initiative that includes the expansion of Brent Cross shopping centre and the development of a new Thameslink station, Brent Cross West.