The £800m Morden Wharf development is designed to deliver 1,500 homes in total across 12 buildings
A huge four-tower mixed-use scheme from developer U&I on the Greenwich peninsula has been given the green light by the local council – despite critics including the local MP saying it is too tall.
The OMA-designed project on the western side of the peninsula was lodged for planning at Greenwich council in June last year with work expected to start in 2023.
It will consist of 1,500 homes and over 17,000sq m of commercial space across 12 buildings, including four towers of between 21 and 36 storeys in height.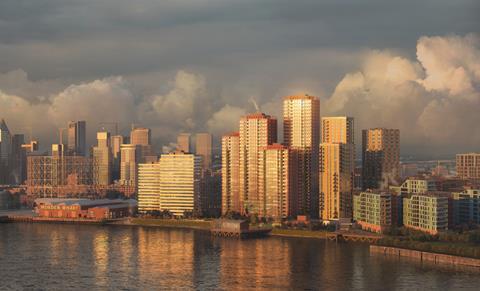 But in May, Labour MP for Greenwich and Woolwich Matthew Pennycook wrote to the planning board of the Labour-held local authority formally lining up against U&I's £770m Morden Wharf scheme.
Pennycook said that the "excessive" heights of the towers would be "wholly inappropriate" for the site and would have a "marked detrimental impact on the existing character of the area".
He added that Morden Wharf would impact views of the Maritime Greenwich World Heritage Site from Greenwich Park, despite the executive for the heritage site having decided not to object to the application.
U&I said in response to Pennycook's letter that the proposals "have been developed in close consultation with the local community and the design of all buildings has been carefully considered to ensure they are in-keeping with the emerging context on the Peninsula".
Last night the scheme was given the green light with the proposals also including a new boathouse designed by Carmody Groarke which could provide a permanent mooring for the crown's royal rowbarge, Gloriana, which was built for the Queen's 2012 diamond jubilee celebrations.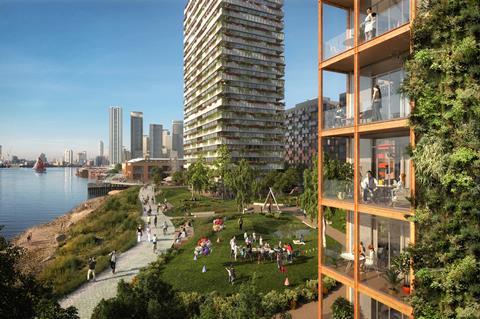 A new road called Sea Witch Lane, named after a pub which was destroyed by a bomb in the Second World War, would run through the development towards a public square for seasonal events and markets.
It will also include a landscaped park which will open up a 275m-long stretch of the river Thames and will include a river beach.
Other firms working on the scheme include Chetwoods, which has designed the commercial space, QS Gardiner &Theobald, structural and M&E engineer Ramboll and landscape architect Planit.