Offsite start-up says the 20 homes contain less embodied carbon than one traditionally built house
TopHat has completed construction of 20 modular council homes for Medway council, Kent, in half the time it would have taken if traditional methods of construction were used.
The offsite specialist said that the 20 two-bedroom homes in Chatham have less embodied carbon than one traditionally built masonry house.
The homes, which are all affordable, were manufactured at TopHat's south Derbyshire factory before being transported to site and installed in a matter of days.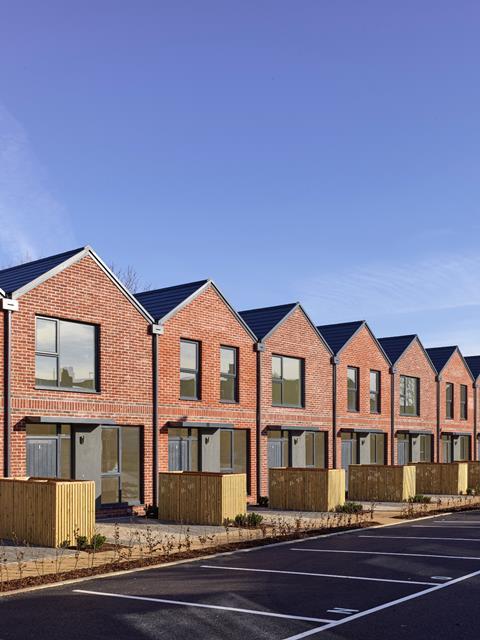 The firm added that the homes, which also include solar panels, are so airtight that they are expected to be more energy efficient than 92% of UK new-builds.
TopHat managing director Andrew Shepherd said the scheme "demonstrates the efficiencies our accredited method of delivery can afford clients".
He added: "As a sector that contributes almost 40 percent to UK emissions, there is an urgent need for a step change in the way the built environment delivers homes."
Medway council leader Alan Jarrett said the scheme "showcases the triumphs of offsite manufacturing".
The completion follows TopHat's appointment by developer Urban & Civic to build 38 homes at a 6,200 development in Warwickshire.
Meanwhile, a former director at TopHat, Mike Ormesher, launched an alliance of 18 northern housing associations last month with a goal of building 9,000 offsite homes a year by 2023.
The Offsite Homes Alliance, which is being driven by housing association Great Places, says it will provide a customisable catalogue of designs for its partners with a focus on as many MMC and offsite technologies as possible.
TopHat has also been selected as the delivery partner for the launch of Ikea and Skanska's modular housing joint venture, BoKlok, in the UK.