Former civil servant will be replaced by her deputy, Gavin Smart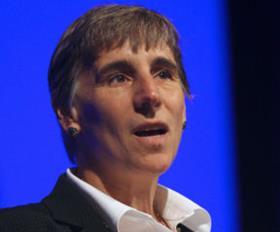 Terrie Alafat, chief executive of the Chartered Institute of Housing (CIH), is to retire from the role at the end of November after four years at the helm.
She will be replaced by Gavin Smart, who became the CIH's deputy chief executive in July 2014.
Alafat (pictured) joined the CIH, which numbers 16,000 members, in 2015 from the civil service where she had been director of housing at the then-Department of Communities and Local Government.
She said it had been a "privilege to lead the CIH through a period of significant change", which included reducing losses in 2017/18 from £1m to a £50,000 deficit this year.
Smart said he would build on Alafat's work of the past four years.
"On behalf of everyone at CIH I want to thank Terrie for the huge contribution she's made to the organisation. CIH as it is today is a tribute to her vision and energy," Smart added.