John Healey outlines plans to set up an English Sovereign Land Trust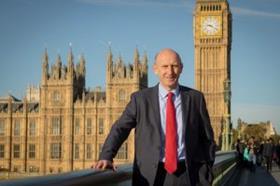 Labour's shadow housing secretary has pledged it will draw up plans for the upcoming election on how it will release cut-price public land to build new housing.
At a fringe meeting at the Labour conference on Tuesday, held by the Smith Institute's Affordable Housing Commission, John Healey outlined the opposition's plans to set up an English Sovereign Land Trust (SLT).
He said legislation will be required to equip the new body with powers to acquire land without having to pay the large uplifts that typically follow the granting of planning permission.
Healey (pictured) told the meeting that in the meantime Labour would work up plans to make it easier for public bodies, like government departments and health trusts, to get around Treasury rules, which stipulate their surplus land must be sold off for the highest price rather than the best long term use.
He said: "Because we want the SLT to be up and running within the first year, we will have, by the election, plans for how we deal with public land as a way of getting the English SLT off to a flying start.
"There's huge profiteering in the land market, there is massive value created by public policy decisions.
"It's not just there to be squandered for the finances of the current year or the pressures of the current generation. We can and will do much better on that."
Earlier at a separate meeting, sponsored by the Home Builders Federation and the British Property Federation, backbench MP Helen Hayes called for landowners to be prevented from selling land for speculative prices.
Pointing to one site in her south London constituency, where the owner had tried to secure four times its £5m existing use value as retail, she said: "He knew that the council had the site earmarked for housing so could get more for it.
"It's a scandal that we need to talk about: a planning system that prioritises the interests of a single private organisation to £20m of windfall profit above the need of that community for genuinely affordable housing."
HBF external affairs director John Slaughter, said it is "reasonable" to allow landowners to decide how to dispose of their sites.
Healey also criticised the Liberal Democrats, currently competing with Labour for second place in the opinion polls, over their role in facilitating the coalition government's housing cuts.
"Let's not forget some of the worst decisions and deepest cuts were made by Conservative ministers and Liberal Democrats. We cannot allow the Tories or Liberal Democrats to escape their share of responsibility."
Healey, who was housing minister in the last Labour government, said that maintaining its investment programme would have delivered 180,000 more social rented homes, which would have been sufficient to house the 85,000 families in temporary and emergency accommodation as well as every homeless person sleeping rough or in hostels.