Capital's mayor ignores residents' concerns about the scale of the Osiers Road development
London mayor Sadiq Khan has given the go-ahead for a development of more than 160 affordable homes in Wandsworth, overruling concerns of residents and the local council regarding the scheme's height.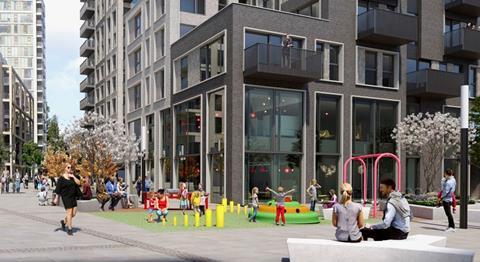 Wandsworth council informed the mayor in May this year that it was minded to knock back revised plans by south London developer Hollybrook to build the Rolfe Judd-designed 168-home scheme on Osiers Road.
The rejigged proposal for 168 homes saw one of the its three towers reduced from 11 to 10 storeys.
But the two other blocks were left unchanged at 11 and 14 storeys respectively.
Khan called in the plans in June this year "to subject them to further scrutiny".
The scheme had attracted more than 400 objections, including one from the neighbouring Riverside Quarter Residents Association which claimed it was "an opportunistic attempt to maximise revenue from the site with no concern for current or future relationships with the community or the council".
Other objectors pointed to the potentially negative impact the revised development would have on natural light coming into their homes.
Khan said following his intervention the level of affordable housing on the scheme would be increased from 39% to 100%. Of these 55%, or 93 homes, would be made available as shared ownership, and 45% (75 homes) as social rent dwellings.
The mayor said the development would meet 12% of Wandsworth's Local Plan affordable housing target.
He said: "Since I called this application in for further scrutiny, my team has been successful in ensuring every new home in this development will be genuinely affordable.
"The design is high quality and includes [nearly 4,000m² of] commercial space which will have a positive impact on the local economy."
"As such, having considered all the evidence available to me, I've decided to approve this development," he added.