Offsite housing pioneer calls 2020 performance satisfactory in 'extraordinary times'
High-rise modular housing manufacturer Vision Modular System saw a sharp reduction in turnover and profit in the year to November 2020 as it grappled with the impact of the pandemic, according to results filed at Companies House.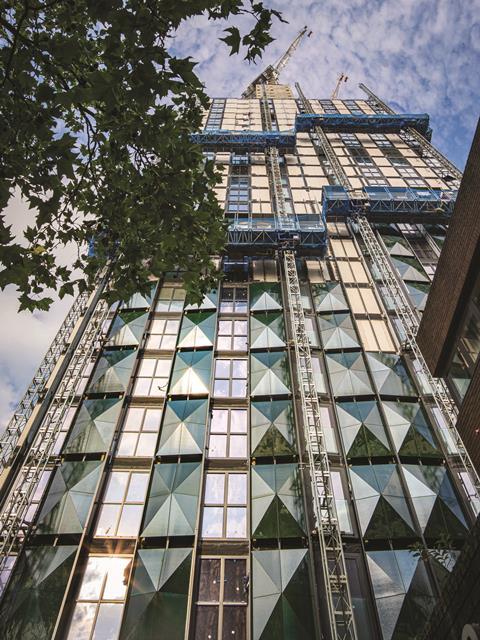 The firm, which is behind a wide range of high-profile modular housing projects in the capital including the tallest modular towers in Europe in Croydon (pictured right), said it made a pre-tax profit of £6.9m on turnover of £64.4m, with the revenue figure down 27% on the £87.8m reported in 2019.
The pre-tax profit figure was also down sharply, by more than a third from just under £11m.
A statement by the directors, Christopher Hayes and Michelle Fleming, blamed the reduction on the need to shut the factory for a period during the 2020 lockdown, plus the need to reduce production when it was open to meet social distancing protocols. They said: "We are very satisfied with the financial results in extraordinary times."
The accounts also show that the average number of staff employed by the firm reduced by 30 on the previous year, to 238, with more than £40,000 set aside by the business for staff compensation for loss of office.
As well as the George Street scheme in Croydon for build to rent developer Greystar, Vision Modular is also the supplier for Greystar's Greenford Green scheme, the Apex House tower in Wembley for Scape, and the 35-storey Lewisham Exchange for Vita Student Group, among others.
Vision works in partnership with its sister company, Tide Construction, which acts as contractor delivering the project which it supplies modules for. Tide earlier this summer reported profit before tax of £13.7m for the year to August 2020 on stable turnover of £169m.
Vision Modular has been contacted for comment.