Cabot Square Capital says Covid-19 has driven surging interest in offsite construction
Investment firm Cabot Square Capital has acquired a majority shareholding in offsite construction specialist Premier Modular, which is currently working on a range of schemes including the construction of Covid-19 testing sites.
Premier Modular last month announced it had made profit before tax of £7.0m on turnover of £65.7m in the year to June 2020. Profit was up 23.2% on 2019 against a 24.6% increase in turnover.
It is working on a number of apartment schemes following its expansion into the residential sector last year.
Other high-profile schemes in other sectors delivered by the East Yorkshire firm include a £50m project to provide office and welfare buildings at the Hinkley Point nuclear power plant in Somerset, awarded to the businness under the name of Waco UK. In addition to a multi-million-pound contract for the rapid construction of coronavirus testing sites, Premier Modular has just been awarded a £7m contract for a 62-bed ward building at St Peter's Hospital in Chertsey, Surrey.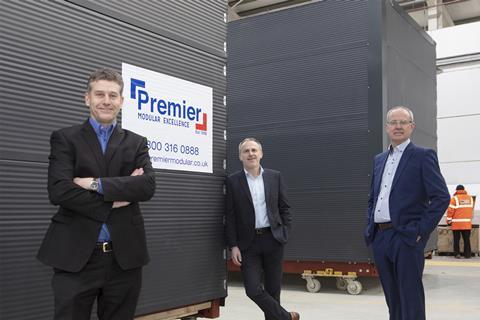 Cabot Square partner Keith Maddin said the investment firm's portfolio already included NetZero Buildings, which manufactures energy-efficient buildings for the public sector, and Public Sector Plc – a specialist asset manager that partners with local government and housing providers.
"MMC and offsite manufacturing are revolutionising the construction industry," he said.
"We are seeing significant growth as more public and private sector clients develop a deeper understanding of the speed, quality, cost, environmental and social benefits of moving construction into a controlled factory setting.
"There has also been a surge in interest in offsite following the Covid-19 pandemic as more construction clients and contractors recognise how the approach can reduce risk and disruption on site."
Maddin said Premier was a high-performing, profitable business that manufactured high-quality building solutions and continued to expand its hire fleet.
"We are excited to partner with its outstanding management team and support the business on the next phase of its growth, including sector and geographical expansion," he said.