But latest Rightmove data show asking prices remain below level seen in July last year
House prices have recovered slightly in February according to online property portal Rightmove, with buyer demand proving resilient to the imminent withdrawal of the stamp duty holiday.
The firm said its monthly housing market index showed that buyers were returning to the market more quickly than sellers, supporting a 0.5% rise in prices on the January index, despite buyers not having a chance to complete purchases before the end of the stamp duty holiday on March 31.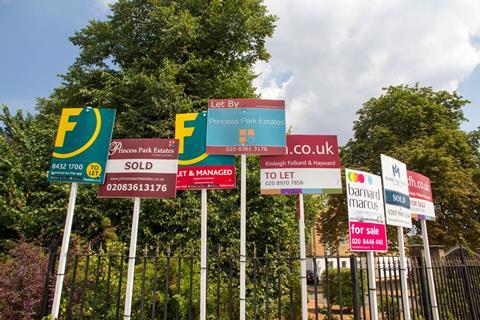 Rightmove estimates that around 100,000 in-process sales are likely to miss out on the temporary stamp duty break for purchases up to the value of £600,000, introduced by the chancellor last July in a bid to stimulate the market. The firm said that a fifth of sales agreed in July last year had still not completed.
The small rise in asking prices, to £318,580, comes after three months of falls from October. Prices remain below the level seen immediately after the lifting of the spring lockdown in July, when they were above £320,000.
Despite the imminent end to the stamp duty holiday, Rightmove said the number of sales agreed was currently 7% up on the same month last year, but that the number of sellers coming to market was a fifth down on 2019.
Despite the increase in demand, Rightmove said the number of days taken for sellers to secure a sale had slipped for the third consecutive month, to 65, above the level seen in July.
The increase in prices comes despite evidence from the RICS last week of falls in both demand for and supply of homes, and flies in the face of widespread expectations of a weaker market from the withdrawal of the stamp duty tax break. Both the Halifax and Nationwide mortgage lenders reported price falls in January.
Tim Bannister, Rightmove director of property data, said Rightmove's early 2021 buyer data shows that all of the key buyer metrics are ahead of early 2020, itself an active period as the market was boosted by the post-election "Boris bounce". He said: "As well as the current lockdown motivating buyer demand again, the restrictions have also been a factor in limiting new supply, leading to some modest upwards price pressure. These are strong signs that new buyer demand is not facing a cliff-edge after 31 March."
However, he said it remained to be seen whether this momentum would be enough to make up for the removal of the stamp duty savings.
Kate Eales, head of regional residential agency at Strutt & Parker, said would-be sellers were concerned about viewings and the practicalities of putting their property on the market. She added: "Some are waiting until restrictions ease before marketing their home and as a result stock levels are down. But at the same time buyers are still out there and we are still registering a large number of new applicants. With this demand there is an opportunity for sellers."