Organisers insist the broader 1,100-home Perry Barr regen scheme being delivered by Lendlease still on track
Organisers of the Birmingham 2022 Commonwealth Games have cancelled plans for a £500m facility to house athletes by Lendlease.
There have been growing concerns about the project with the council's audit committee giving the Commonwealth Games Village (CGV) a red risk-rating last week meaning that there is a high level of concern about the programme.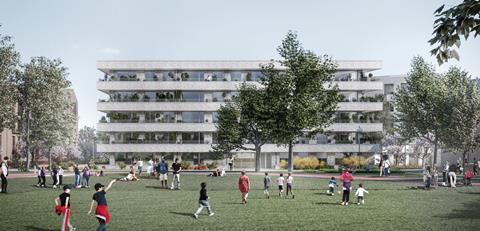 However, the broader Perry Barr Regeneration Scheme, which is being built by Lendlease, with new housing and transport infrastructure, will still be delivered, organisers added.
The scheme was originally supposed to accommodate around 6,500 athletes and officials during the games before being turned into a mixed-use development featuring more than 1,100 homes.
The council said last month that an analysis of Lendlease's job to build the athletes village (pictured) was being carried out to work out the impact of coronavirus on the schedule.
In June it emerged that the department for digital culture, media and sport had been brought in as part of the review.
But it has now been announced athletes and officials will be housed across three sites at the University of Birmingham, the University of Warwick and the NEC Hotel Campus.
This new campus model will see 1,600 athletes and officials housed at the NEC Hotel Campus, 1,900 at Warwick university and the principal village with 2,800 at Birmingham university.
The council has said the coronavirus pandemic was the final straw and meant the project would not be delivered in time for the Games.
It said: "It follows an assessment by the project delivery team, who has been working with the construction supply chain, as well as independent experts, on how they could de-risk Games delivery.
"With a shorter than normal timeframe for delivery of the Birmingham 2022 Games, the new build accommodation site was under continued review from the outset, with expert consultation throughout, and had very little scope to withstand the impact covid-19 has had on construction."