PfP Capital and Housing Growth Partnership sign £390m sustainable housing deal
A fund manager owned by housing association giant Places for People and a social impact investor backed by Lloyds Banking Group have announced a joint venture to build 1,200 sustainable homes.
PfP Capital and the Housing Growth Partnership, which is funded by Lloyds and Homes England, have unveiled plans to develop homes with a gross development value of £390m.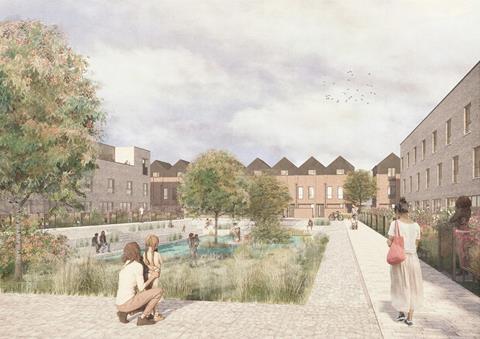 The joint venture is initially seeking to build 10 'individually-designed' urban communities on major urban regional city sites.
The homes will be developed by Igloo Regeneration, the sustainable housing specialist acquired by PfP Capital in January.
The first scheme delivered through the partnership will be the first 78 homes of a 400-home scheme at Dundashill, in Glasgow. The completed development, a mix of two- three- and four-bedroom homes for sale, will be delivered using panellised modular construction with materials sourced from the local area. Four-fifths of the low energy properties will target an EPC A rating, with additional features including photovoltaic roof panels, as well as air source heat pumps and EV enabled parking.
>>See also: The story behind the planned 'largest timber development in UK'
>>See also: Places for People wins 8,500-home urban extension approval
Further Igloo sites are in the pipeline, including planned developments in Nottingham and Newcastle.
PfP Capital has delivered 2,500 homes to date with a further 1,700 under development or in the pipeline.
John Tatham, finance director at PfP Capital and Igloo board member, commented: "This partnership will accelerate the development of over 1,200 highly sustainable homes across the UK, at a time when the pace of new home delivery is rapidly declining."