Small size and lack of outdoor space made residents less happy with new properties, study by UCL finds
Spending lockdown in a new-build home and neighbourhood has been more difficult than in houses built before 1919, according to a study of 2,500 homeowners.
The research for the Place Alliance group, conducted by UCL, found that people rated their home as less comfortable the newer it was, with those built in the past 10 years ranking the lowest.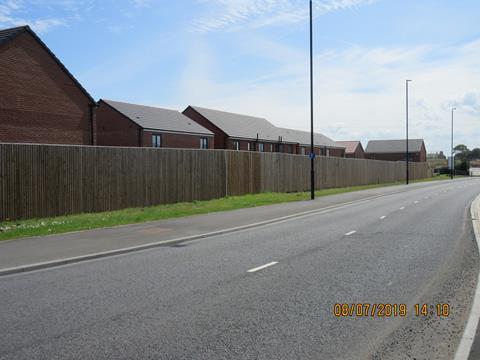 It found that the owners of one in five homes built since 2010 rated them as uncomfortable, compared with one in seven in the oldest homes.
However, the disparity between newer and older housing was more stark when it came to the quality of the neighbourhood. Those living in the newest developments were twice as likely (8% as opposed to 4%) as those in pre-1919 housing to say that their neighbourhood was "poor" for meeting their everyday needs.
Private outdoor space was the most important factor in determining whether occupants found their homes comfortable, while proximity to green space was the biggest determining factor in satisfaction with the local neighbourhood.
The study follows a national design audit co-sponsored by the Place Alliance in January, which reported that 74% of new housing schemes were of "mediocre" or "poor" design.
>> Could covid spell the end of open-plan living?
Professor Matthew Carmona, lead author of the report, said: "We need to learn from the stress test that lockdown has given our homes and neighbourhoods to build better living environments and to adapt those we are living in today.
"In recent years we have let design standards drop. As our survey shows, people tend to be less satisfied in new housing."
He said the disparity was likely in part to be down to a lack of clear national space standards, resulting in homes being built that are too small, as well as the fact that new neighbourhoods were being created without ready access to basic amenities.
"We need to make sure that all homes have access to private open space, whether a garden, terrace or balcony, and that they are big enough to comfortably live in, with fresh air, daylight and good insulation from noise"
Report co-author Valentina Giordano, research fellow at The Bartlett school of planning at UCL, said new developments should aspire to ensure that all residents are within five minutes' walk of a park and shops.
The research follows widespread reports that a desire by buyers who can afford it to "trade up" to bigger homes with more outdoor space has been partly responsible for driving the surge in housing market activity that has followed the lifting of lockdown restrictions.
Last week research by Riba found that eight out of ten homeowners were keen to reconfigure their houses after lockdown, with a fifth wanting to add more space and 10% wanting to move away from open-plan living.
Last week Andrew Taylor, group director of planning at housebuilder Countryside, told Housing Today that the firm was looking to re-plan existing developments in order to make the designs more appropriate post-lockdown, including moving away from open-plan designs.
Responding to the findings Andrew Whitaker, director of planning at the Home Builders' Federation, said the report showed that the "vast majority of residents" of new builds said their homes met the challenges of lockdown. He said: "Surveys show that the overwhelming majority of people are happy with their home with the design of the home being one of the most positive responses. New build homes are designed for modern living and reflect what today's buyers want from their home."
The Place Alliance, which commissioned the UCL research, is a movement for place quality hosted by UCL, with support from Urban Design London, Good Homes Alliance and the Urban Design Group.