Developer sees 2020 profit drop as it writes down £4.3m against problem scheme.
London-based housebuilder Mount Anvil has recommitted itself to working only in the capital after it saw its pre-tax profit drop by more than 80% in the 2020 calendar year after being hit by a series of problems on a project in Manchester.
The developer, which builds homes in joint venture partnerships with housing associations and funders, reported a pre-tax profit of £1.2m for 2020, down 82% on the £6.2m recorded in 2019.
This figure, produced from a turnover of £215m, included an exceptional write-down of £4.3m, related to a share of losses on the £250m Kampus build to rent project, its sole project outside the capital, where Mount Anvil said in its accounts it was hit by a "perfect storm" of problems, including covid delays.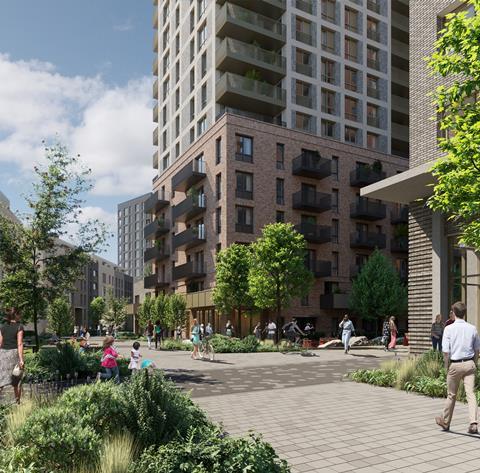 Mount Anvil said it had taken on the project to support a long-term financial partner, which it did not name, but encountered "supply chain failures exacerbated by the Manchester construction boom", on site flooding, and staffing issues – all of which were compounded by site closures in the wake of the 2020 spring lockdown.
After sharing the costs with its partner, the firm said in its accounts that the group has "recommitted to focusing exclusively on the London market."
Mount Anvil named as contractor in 2017 for the £250m Kampus build to rent scheme close to Canal Street, designed by Chapman Taylor and developed by Capital & Centric and Henry Boot.
The business said it profit was also reduced by it setting aside £1.5m to pay for remedial costs of previously built homes affected by fire safety issues in the wake of the Grenfell fire.
However, while the group's own profit and turnover reduced, the gross overall turnover and profit recorded by the joint ventures it is engaged with increased. The gross overall partnership pre-tax profit was £32m, up 37%, while the gross partnership turnover was £277m, up 65%.
Mount Anvil's own revenue derives from its share of JV income, contracting income from the contracts let to it by these JVs, and other property development services.
Mount Anvil's previous schemes include the Lexicon building with Clarion, Royal Docks West with Excel London, and Queen's Wharf with A2 Dominion. It is currently on site with JV partner Catalyst on the 990-home redevelopment of the Friary Park Estate in Acton, now rebranded as the Verdean.
It delivered 320 homes in the year, despite the covid lockdown forcing it to close sites from late March to the end of May, up from 301 in 2019.
The firm said the demand for its homes "remains strong", and that a revamped sales and marketing strategy had resulted "in a record-breaking number of pre-sold homes". It said it had a current development pipeline in its JVs of £2.1bn.
It added: "We expect that our share of the overall profit generated will increase in the coming years as we take larger stakes alongside our JV partners in forthcoming schemes."