Partnerships housebuilder poaches Engie exec to triple size of Morgan Sindall's later living operation
Development and construction giant Morgan Sindall is to triple the size of its later living operation following a decision to merge it into its partnerships housing business Lovell.
Lovell, which is part of the Morgan Sindall group, has recruited Paula Broadbent, formerly the retirement solutions director at Engie, to drive the expansion of the later living business within Lovell from its 2020 turnover of around £30m.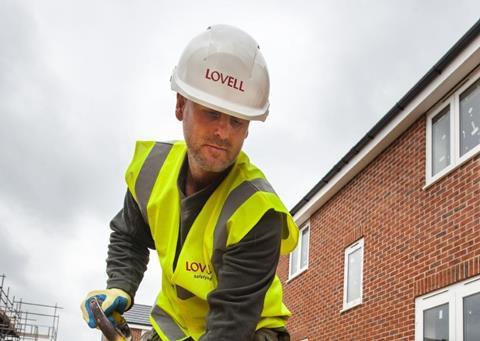 John Leary, interim MD at Lovell Later Living said the firm's intention was to more than triple turnover to £100m within three years.
He said the current pipeline of work with local authorities and registered providers meant he was confident turnover this year will already hit around £60m.
Leary said making the existing business part of Lovell's operation will allow it to benefit from Lovell's existing relationships with housing associations, councils and care firms and grow more quickly. He said: "We're increasingly being asked by local authorities for a later living component to the schemes we do. The demographics show the UK is crying out for more purpose-built accommodation, and the options that are there are patently inadequate.
"Integrating later living [with Lovell] means we can realise the full potential of the business."
Leary said most of the Later Living business's current workload was as a development partner for projects on local authority land, but that the firm will increasingly be aiming to offer its own land and development opportunities it has secured itself to partners.
He added the firm will also seek to start building "mixed tenure" later living schemes, encompassing affordable supported housing and local authority extra care provision alongside private retirement and extra care housing for sale.
He said Paula Broadbent, a former Keepmoat executive, is set to join Lovell in April to take control of the expansion.
The idea is the business will undertake schemes designed to tackle the chronic shortage of purpose-built accommodation for the elderly and vulnerable, partnering with organisations looking to provide new accommodation for older people.
Lovell said it already had 12 schemes underway, with existing projects being developed in partnership with housing associations including Places for People, Southern Housing and Home Group.
The announcement came as Lovell's parent Morgan Sindall reported results for the covid-affected 2020 year in which it revealed turnover at Lovell dropped 14% to £441m. The business actually saw growth in the development side of its operations, which accounted for almost two-thirds of turnover, while straight contracting revenues fell by 33% to £163m.
Morgan Sindall said it expected that "operational improvements and the benefit of higher revenue" will next year ensure "margin and profit growth" at Lovell, putting it on track to meeting medium-term targets to raise operating profit margin to 6% from 3.7% last year.
The move comes amid optimism about significant growth in the market for "extra care" housing, which insurance giant L&G – which has its own later living business – has described as a £100bn market opportunity.
However, the last year has seen traditional retirement home builders struggle to sell houses amid concern over covid affecting older customers. The largest, McCarthy & Stone, yesterday confirmed its intention to set up an affordable housing business.