Housebuilder and for-profit provider will collaborate to maximise use of MMC and explore growing markets
Developer Lovell Partnerships and for-profit housing association L&G Affordable Homes (LGAH) have announced plans to build 3,000 homes over five years through a 'partnership'
Under a loose agreement to collaborate, LGAH will deliver homes of affordable tenures while Lovell, the housebuilding arm of giant construction firm Morgan Sindall, will bring its 'open market and build expertise across all tenures', a spokesperson said. The financing arrangements will differ on a scheme-by-scheme basis.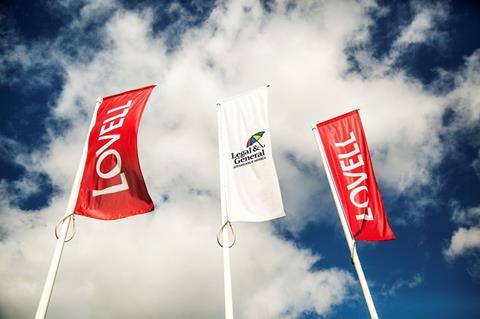 The pair are looking at opportunities to build suburban build to rent units, as well as later living accommodation and want to maximise the use of modern methods of construction.
Mary Parsons, regeneration & partnerships director for Lovell Partnerships, said: "Our work with Legal & General will mean sites are identified quickly with a combined pool of knowledge to then offer the optimum mix of tenures to drive both commercial and social value. Our aim is to invest for the long term and create not just the highest quality homes, but great places to live."
The first scheme delivered will be a 234-home project in Oldbury, west Midlands called 'the junction' on the site of a former foundry.
See also>> L&G Affordable Homes' ambitious plans for expansion
LGAH, set up in 2018, is increasingly looking to build homes directly through its offsite arm L&G Modular Homes rather than relying on purchases of section 106 affordable housing allocations from other providers. It told investors last year it is seeking to treble its turnover from £250m to £775m by 2025, and also treble its total annual completions from 1,000 to 3,000.
Lovell last month announced it boosted its revenue to £572m from £474m for the 2021 calendar year. Its operating profit jumped from £16m to £33.2m over the same period. The business increased its contracting revenue 27% to £249m while its mixed-tenure turnover rose 16% to £323m.