Olympic legacy body undertakes first joint venture to allow it to drive pace of development
The London Legacy Development Company has formed a 50/50 joint venture with Ballymore to build out two sites for almost 1,200 homes on the former Olympic Park in East London.
The deal with Ballymore for the 575-home Bridgewater Triangle site and the 600-home Stratford Waterfront site is the first time the Legacy Company has set up a joint venture to deliver one of the sites on the 2012 Olympic Games site.
The deal was announced as the 2.4 ha Bridgewater Triangle site, which has been masterplanned by Stirling Prize-winning architect Mikhail Riches, received outline planning permission last night from the London Legacy Development Company (LLDC) planning committee.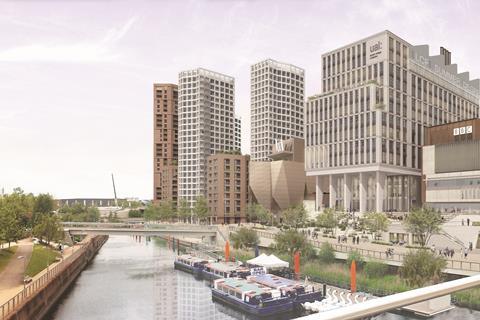 The scheme includes 61,730 sq m of residential floorspace across 575 homes, of which 50% will be affordable, and the majority will contain at least two or more bedrooms.
The 0.96 ha Stratford Waterfront site, which includes plans drawn up by architects Allies & Morrison and O'Donnell + Tuomey for towers of up to 26 stories, gained outline permission in 2019.
A spokesperson said the decision to set up a joint venture with Ballymore will allow the Legacy Company to drive development forward on the two schemes at its own pace, and while it would mean taking more risk, it would also deliver better returns for the public purse. The Legacy Company will put its landholdings into the joint venture and is understood to be also likely to make an equity investment, but has not disclosed the value of this.
Previously the LLDC has used development agreements with housebuilders and developers to build out sites, with Taylor Wimpey and L&Q picked to build out its first scheme, Chobham Manor, now nearly complete, and Balfour Beatty and Places for People chosen to build out the next two schemes, East Wick and Sweetwater, of which the first phase has just completed.
However, the Legacy Company is understood to be keen to drive a faster pace of delivery in future by retaining a direct stake in the delivery of the key Stratford Waterfront and Bridgewater Triangle schemes. The decision to set up a JV is also understood to be in part a response to the weakening housing market and risks posed by covid, build cost inflation and interest rates.
Rosanna Lawes, LLDC executive director of development, said: "We are hugely excited to enter this partnership with Ballymore and to build on what has already been achieved over the last 10 years.
"Ballymore bring great expertise and proven regeneration credentials to help create thriving new communities with well designed, sustainable homes to meet all needs."
Ballymore group managing director John Mulryan said: "We are delighted to be partnering with LLDC, supporting the regeneration and delivery of homes in this special and inspiring destination that puts community and culture at its heart.
"Ballymore has been strategically focused on large-scale strategic partnerships with public bodies and this joint venture aligns with that goal."