Build to rent apartments, student accommodation and hotel will be housed in twoers of up to 33 storeys
Plans for 629 build to rent apartments, student accommodation and a 120-room hotel on a key Leeds city centre fringe site have been given full permission.
The plans to convert the former Leeds International Swimming Pool site have been drawn up by DLA Architecture on behalf of Lisbon Street Developments, a joint venture between Marrico Asset Management and Helios Real Estate.
Plans for the 2.8-acre site include two build to rent towers of 33 and 22 storeys, which will house the 629 flats, with 548 student flats contained in a separate 24-storey tower. In addition to the 120-room "aparthotel", the scheme will also provide 22, sq ft of co-working space and 131,000 sq ft of office accommodation.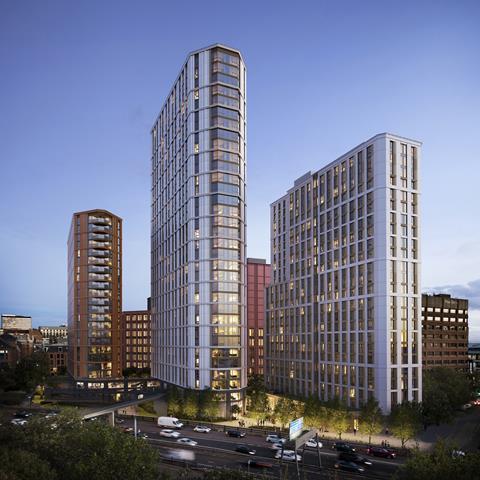 The developers said the scheme included a "strong" public realm with linkages via pedestrian and cycle ways through to the city centre, following intense scrutiny due to its location.
Marrico partner Mark Barnes said: "We are delighted to secure full consent for the vital transformation of this important site which has been underutilised to its true potential for too many years. These proposals play a key role in bringing more investment and growth into the west end of the city centre and complete the crucial missing link".
The site has been used as a car park since the demolition of the international pool in 2009.