Association gets approval for scheme on Morrison's supermarket site
Residential landlord L&Q has won planning permission for a 215-home mixed use scheme in Brentford after buying the site from private rented sector developer Essential Living in 2019.
Essential Living had previously won permission for a 221-home redevelopment of the Morrison's supermarket site on Brentford high street after a high court legal battle over the scheme between rival supermarket operators.
In a statement housing association L&Q said it had now won permission from Hounslow Council for a scheme including more homes with balconies, a larger proportion of three-bed family homes, and a larger and improved supermarket space.
In addition, it said the proportion of affordable housing on the scheme (pictured, below) will increase from the 25% proposed by Essential Living to 66% proposed by L&Q. The association said 44 of the homes will be for affordable rent, 97 for shared ownership, and 74 for market sale. The scheme will also create a publicly accessible square, to be planted and populated with street furniture.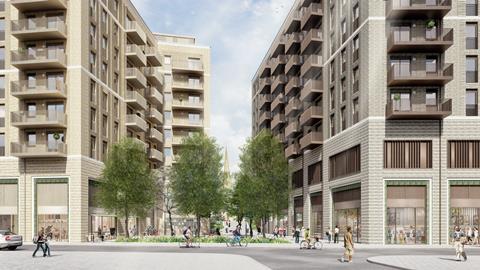 Essential Living had previously proposed replacing the existing Morrison's with a larger Aldi supermarket, a proposal which Morrison's challenged, unsuccessfully, in the High Court.
Angie Hooper, director of business development at L&Q, said: "We're proud to have developed proposals, by working with the community, that will help to reinvigorate the High Street, with a new supermarket and shops alongside hundreds of new and affordable homes."