Knight Frank says firms divided on whether planning changes will impact land supply
The delivery of new homes is at risk because of land shortages and supply chain delays, according to a report by Knight Frank.
In its quarterly land index report, the property agent found that 70% of the respondents thought the current supply of land available for development was either "limited" or "very limited".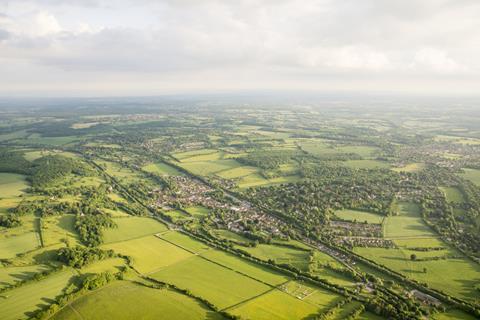 In fact, such is the perceived land shortage respondents were divided about whether the government's zoning plans would increase the supply of land.
Under the reforms, councils will use a system to assign growth, protection or renewal zones in their local plans.
In total, 40% said the reforms would not increase supply, while 30% said they would.
Supply chain shortages were also a concern, with supplies of materials and labour having become less resilient in recent months.
The problem was reported by SMEs and volume housebuilders alike, with 26% of both groups reporting supply shortages of key building materials.
Justin Gaze, head of residential development land at Knight Frank, said: "Covid-19 quarantine restriction led to logistical bottlenecks around the world.
"For England's housing sector, the issue has been exacerbated by high levels of construction activity following the seven-week housing market shutdown last year and the subsequent exceptional demand for housing to meet post covid-19 needs."
Overall, 40% of Knight Frank's respondents said they had been forced to reduce their profit margins in quarter two, which have come under pressure as house prices moderate and build costs increase, with supply shortages driving material cost inflation.
No firm increased their margins, while the remainder maintained the same margins as in the previous quarter.
Split by group, larger housebuilders reported more instances of reducing margins, with 50% saying this was the case. For SMEs just 28% said this was the case.
Looking ahead to quarter three, while the majority of firms said they would maintain their margins, 18% did say they planned to reduce them.
The survey did find that despite supply chain issues and rising build costs, housebuilders were seeking to replenish their pipelines after scaling back from investing in 2020.
The rise in demand for land is in some cases causing prices to increase, particularly greenfield sites as housebuilders are focused on building housing schemes with access to open space.
The report found greenfield land prices rose 8% in quarter two, while annually greenfield values rose 9.1%.
It added that while average land prices in prime central London were flat on a quarterly basis, they increased by 4.7% across the year.
Values were also largely flat across regional cities and Greater London, with Knight Frank reporting slower demand and tighter margins against rising build costs. Brownfield land prices were flat on the quarter but up 4.3% compared to a year ago.
Frank Knight surveyed nearly 40 of England's leading volume and SME housebuilders for its report.