Terra Strategic has signed deals with landowners to progress plans for new community outside Bristol
Strategic land business Terra is to draw up a planning application for 600 homes on the site of the proposed Banwell Garden Village in the Somerset countryside south west of Bristol.
Terra Strategic said it had assembled 96 acres of land by signing deals with five separate landowners, and was now looking to promote the controversial site through the local plan process.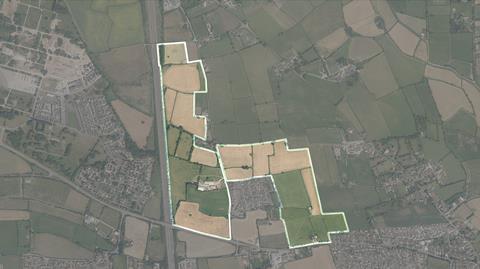 Plans for almost 2,000 homes at Banwell Garden Village, located just off the M5 east of Weston Super Mare, had been a key part of the failed West of England Joint Spatial Plan, which was withdrawn last year. Local residents had campaigned against the plans.
However, a consultation on a revised local plan issued by the local North Somerset council last autumn again identified the site as a likely location for growth, though it is not yet clear at what scale.
Last year the site received £97m in Housing Infrastructure Fund cash in order to build a bypass around the existing village of Banwell, seen as a key measure in enabling the development. Terra's announcement comes as the council is on the verge of issuing its first draft of the new local plan, to 2038.
James O'Shea, managing director of Terra Strategic said the firm's masterplan included provision for a new Local Centre, green pedestrian and cycle links and 26-acres of public open space: "The creation of this highly sustainable Garden Village will deliver an outstanding new community to the area, boosting the local economy in the process. We will continue to work with the council's officers, local councillors and all stakeholders to move forward with our plans."
O'Shea said the wider Banwell site still had the potential to deliver the previously envisaged 2,000 homes