Document edited by Guardian columnist George Monbiot makes the case for community land trusts and ditching council tax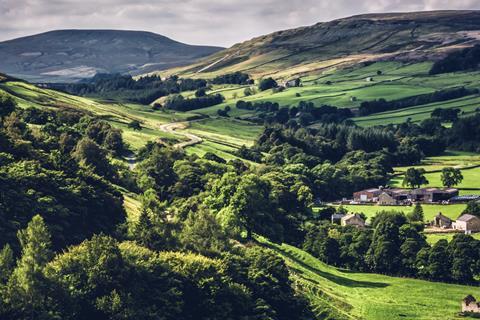 A new report developed for the Labour party has argued that community land trusts should be handed a greater role in transforming the lives of under-represented people and alleviating the housing crisis.
The report, Land for the Many, outlines a series of policy proposals to address what it saw as inequality across society "stemming from how land is developed for housing and other uses".
Among its recommendations are a call for a Labour government to set an explicit goal to stabilise house prices, so that wages can catch up and the house-price-to-income ratio can gradually fall.
All information about land ownership, control, subsidies and planning should be published as open data.
The report also said a Labour government should support the creation of community land trusts (CLT) and community-led housing.
"To enhance the community ownership of land, we propose introducing a Community Right to Buy based on the Scottish model, in the other three nations of the United Kingdom.
"We do not expect community-led development to replace the need for the state to deliver mass social housing. But we do believe it could play an important role. Community-owned housing now accounts for 15% of the total in Norway and 8% in Austria."
The report argued that community-led developments offered "a compelling alternative to current approaches. With sufficient support to scale up, it could become a powerful tool to transform the position of people who are currently excluded and marginalised."
The National CLT Network, which promotes the work of CLTs in England and Wales, said 935 CLT homes had been built, with more than 5,000 due to be built in the next few years, in part thanks to the government's £163m Community Housing Fund.
Tom Chance, director at the National CLT Network, welcomed the Land for the Many report, since it was "really positive to know that community land trusts are widely considered as a practical approach to helping combat inequality, protect assets of community value and give communities more control.
"In Scotland, there are 227,526 hectares in community ownership, or 3% of the country. In comparison, we estimate that 0.03% of England is in the hands of communities. We welcome the proposals put forward in this report and will continue to work on building cross-party support to make CLTs a mainstream option for communities wanting to take control."
Guardian columnist George Monbiot, who edited the report, said land was at the heart of many of the country's problems.
"Soaring inequality and exclusion, the massive cost of renting or buying a decent home, repeated financial crises sparked by housing asset bubbles, the collapse of wildlife and ecosystems, the lack of public amenities … the way land is owned and controlled underlies them all. Yet it scarcely features in political discussions.
"We cannot solve our many dysfunctions without addressing [land]. This report aims to put land where it belongs: at the heart of political debate and discussion. It proposes radical but practical changes in the way land in the UK is used and governed.
"By these means, it seeks to make this a nation that works for everyone, with a better distribution of wealth and power, greater financial stability, economic security and environmental quality, greater participation in the decisions that affect our lives, an enhanced ability to create our own homes and neighbourhoods and a stronger sense of community and belonging," Monbiot added.
Other recommendations in the Land for the Many report:
Buy-to-let mortgages should be more firmly regulated and restricted
Replace the council tax with a progressive property tax, payable by owners, not tenants
Stamp Duty Land Tax phased out for those buying homes to live in themselves, and capital gains tax for second homes and investment properties should be increased. Inheritance tax should be abolished, and replaced with a lifetime gifts tax levied on the recipient
Business rates replaced with a Land Value Tax, calculated on the basis of the rental value of local commercial land
Development led by democratically-accountable public bodies and communities, not private developers
The planning system should be reformed. Local authorities should be permitted to set and vary planning fees, including increasing them for applications raised more than once or when advice or policy has been ignored
Support the creation of Community Land Trusts and Community-Led Housing
Devise new rules to facilitate community ownership and increase the choice and scope of mortgages for community-led housing.
Source: Land for the Many