Housing secretary rules local council can't force Sittingbourne development to be more sustainable
Plans for nearly 700 homes in Sittingbourne, Kent, have been given the green light by housing secretary Robert Jenrick despite claims the homes will undermine the local council's commitment to reaching net zero carbon emissions.
The scheme, destined to be built out by Barratt following an agreement with landowners Quinn Estates and Mulberry Estates, includes outline permission for 595 homes plus a primary school and shops, along with detailed permission for a further 80 homes.
Jenrick decided that the benefits of the Wises Lane scheme in terms of providing new housing outweighed the negative impacts of it, including a "significant" erosion of the development gap between Sittingbourne and Chestnut Street, and harm to listed buildings and a conservation area.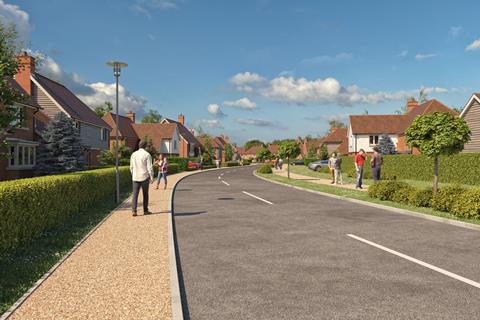 In addition, he rejected planning authority Swale council's argument that the scheme needed to be built to higher environmental standards in order to gain permission. Jenrick said it complied with local planning policies, and that while it only met the "bare minimum" rather than the council's commitment to carbon neutrality, he couldn't judge the scheme against that ambition as relevant planning policies hadn't been put in place.
His decision said: "The Secretary of State agrees with the appellant's case that under the plan-led system it is not possible or desirable to predict what policies might apply in the future and apply them now."
The speculative application had been taken to appeal despite Swale initially resolving to grant permission in January 2019, before deciding to reject the terms of a proposed section 106 agreement and refer the application back to the committee.
The developers then appealed for non-determination, while the council attempted to enforce higher environmental standards for the scheme by using planning conditions. The developers said their scheme would reduce emissions by 1-2% on current build standards, where the council was attempting to enforce cuts of 50%.
Jenrick said in his decision that: "Notwithstanding the high-level national commitment to carbon neutrality, and the significant weight attaching to tackling climate change, these conditions also go beyond current and emerging national policy […] the proposed conditions cannot be said to be either reasonable or necessary."
Despite the development not being in accordance with the local plan, the application was judged against the presumption in favour of sustainable development in national planning policy, because the local council could not demonstrate the required five-year supply of development sites.