Row erupts after Robert Jenrick blasts London mayor's housing record and orders changes
Sadiq Khan has accused the government of trying to "run roughshod" over his efforts to draw up a London Plan, after communities secretary Robert Jenrick ordered him to make significant changes and savaged his housebuilding record.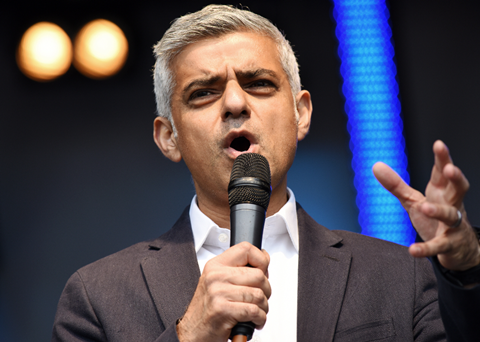 Responding in a letter to Khan's submission of his new London Plan last December, Jenrick blasted the mayor's record of housing delivery over the past three years, writing that the average of 37,000 homes was "well below" Khan's own assessment of housing need.
Over the same period, other mayors in England had done significantly better, Jenrick said, including Andrew Street, the Conservative mayor of the West Midlands.
The mayor of London (pictured) in response criticised Jenrick's "heavy-handed approach" and called for further devolution of funding for London housing.
Read Robert Jenrick's letter to London mayor Sadiq Khan by clicking here
Khan's plan included a commitment to deliver 650,000 homes between 2019 and 2029, or 65,000 homes a year, but Jenrick accused Khan of presiding over a "deeply disappointing" level of housing delivery.
The minister highlighted that the planning inspectorate had said the mayor would deliver 52,000 homes a year, a shortfall the minister said would have "significant consequences" for Londoners.
His letter went on: "Having considered your plan at length my conclusion is that the necessary decisions to bring more land into the planning system have not been taken, the added complexity will reduce appetite for development further and slow down the system, and throughout the plan you have directly contradicted national policy.
"As you know, by law you must have regard to the need for your strategies to be consistent with national policies."
Jenrick said he was refusing to publish Sadiq's plan until the mayor made a greater commitment to addressing the capital's housing requirements.
The minister also warned that he expected regular meetings with Khan and "quarterly, systematic reporting of progress on housing delivery across all tenures, devolved programmes and your planning pipeline across London".
A spokesperson for Khan said: "The mayor makes no apologies for trying to deliver genuinely affordable housing in the capital while protecting and enhancing the green belt.
"The secretary of state is trying to run roughshod over the mayor's efforts to finalise a London Plan, which will deliver for Londoners and deliver on pledges from the mayor's manifesto.
"[Jenrick] needs to realise that London is best served by the government devolving further funding and powers to the capital to build the affordable homes it urgently needs, instead of taking this heavy-handed approach."
But industry figures called for calm. Jonathan Seager, executive director of place at business lobby group London First, called on the two politicians to lower the temperature of the debate.
"It is important now that the government and the mayor work constructively, and take the heat out of the situation. London needs more homes, and the only way this will be achieved is if politics are put to one side and there is a renewed focus on creating a planning and delivery framework that can increase housing supply in London.
"We need more land, more money, and better ways of building."