Growth in demand for homes is more widespread than at any point this century
Estate agents have seen a sharp rebound in buyer demand in July, with the July housing market survey by the RICS reporting the most widespread increases in demand seen this century.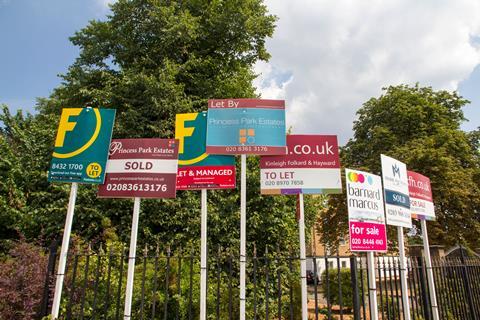 The monthly survey found that a net balance of 75% of estate reported an increase in buyers during the month, with a net balance of 57% reporting an increase in sales. A similar proportion said they saw increasing homes being brought to the market, suggesting a broader revival in the housing market.
However, the RICS's survey also showed that the average number of sales per branch remains below the level seen prior to the covid crisis.
It also saw signs that estate agents do not expect the strong rebound to the market to be converted into big increases in house prices. The survey found a balance of just 8% of surveyors thought prices would be higher in 12 months' time than today.
The RICS said that, anecdotally, some surveyors said they had seen the positive impact from the stamp duty holiday announced by chancellor Rishi Sunak at the start of July, but others were now concerned that the growth was a precursor to a subsequent crash.
Ben Hudson, of Hudson Moody in York described the market as "crazy" with "so many people" wanting to move. John Halman, of Gascoigne Halman in Wilmslow, said: "Very busy market, just like 2007 and we all know what happened then", while Michael Jones, of Michael Jones in Herefordshire, said the market was showing "significant indications of overheating" as prior to the crash in the late 1980s.
Simon Rubinsohn, chief economist at the RICS, said there was undoubtedly a "strong impetus" behind the current housing market. "However, it is interesting that there remains rather more caution about the medium term outlook with the macro environment, job losses and the ending or tapering of government support measures for the sector expected to take their toll," he said. "Some contributors are now even referencing the possibility of a boom followed by a bust."
Rubinsohn added the survey showed there was also greater interest in properties offering features desirable to manage future lockdowns such as access to green space, gardens or balconies.