Providers expect to build 378,000 homes over next five years
The Regulator of Social Housing (RSH) has said expected housing association development output is now back to pre-Covid-19 levels.
The RSH, in its annual Sector Risk Profile document, based on mandatory information submitted by all associations with 1,000 homes or more, said forecast development has now "broadly returned" to the levels outlined in 2019.
It said that "providers reprofiled development forecasts in response to COVID-19 disruption, planned increases in major repairs expenditure and the new affordable homes programme."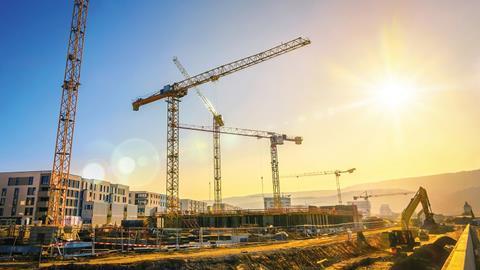 However, it added: "Forecasts for development have now broadly returned to pre-pandemic levels, with 378,000 units forecast to be developed over the next five years across all tenures". As a comparison, the pre-pandemic 2019 Sector Risk Profile document forecast 380,700 homes over the period 2020-2025.
By contrast last year's Sector Risk Profile showed a drop of 36% in forecast development in 2020/21 and a 13% drop in 2021/22.
See also: Exclusive: housing association CEO earnings rise below inflation at 0.8%
See also: Housing association accounts 2020/21 coverage all in one place
The latest figures come despite several warnings of reduced development in the housing association sector due to extra building safety costs and decarbonisation.
Members of the G15 are planning to build 120,000 homes over the next 10 years, which chair Geeta Nanda has admitted is lower than previous ambitions. L&Q, one of the biggest builders of social housing in the UK, has indicated its development over the next five years is likely to fall by 70%.
The RSH said the proportion of homes built for sale is lower than pre-pandemic, with homes built for low-cost home ownership and outright market sale making up 39% of forecast development, down from 43% two years ago.
The risk profile document outlined a range of risks to the financial viability of housing associations.
It revealed spending on building safety and energy efficient has seen providers' interest cover – a measure of how easily a provider can pay its outstanding debt – "deteriorate" falling from 181% in 2019 to 165% in 2020 and 161% in 2021.
It said providers have been taking advantage of low fixed rates to refinance existing debt facilities, with the proportion of fixed rate debt of more than a year falling from 80% next year to 75% in 2025/26.
"This still leaves a significant volume of debt vulnerable to changes in interest rate", the SHR said.
The document warned of the need for providers to manage risks linked to skills shortages and to manage stock quality.