Increase in value of housebuilding work follows two successive monthly decreases
Housebuilding output rebounded in April after dropping for two consecutive months.
Figures from the Office of National Statistics this morning show the value of monthly housebuilding was £3.74bn in April, up 1.1% from the £3.7bn recorded in March.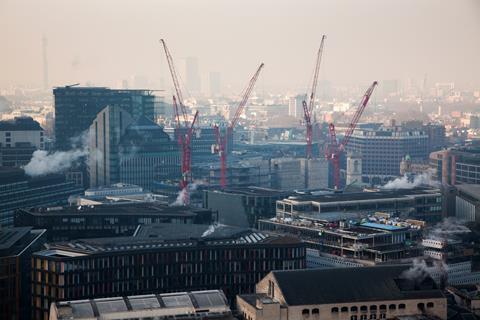 The figure was 6.1% higher than the same month last year and slightly above the figure recorded in February 2020 pre-pandemic.
The month-on-month increase may alleviate concern that the housebuilding market is slowing down. However, another dataset, the Construction purchasing managers' index (PMI), compiled by the Chartered Institute of Purchasing and Supply (CIPS) and S&P Global, showed growth flatlined in May to its slowest level since the start of the pandemic.
Today's figures also show overall construction output falling 0.4% in April month-on-month after five months of consecutive growth.
Construction output dropped by 0.4% in April after five months of consecutive growth, the ONS has reported.
See also>> Are we seeing the start of a housing development slowdown?
The decline, driven by a fall in repair and maintenance work, came on the back of record levels of output in March, with total output valued at £14.99bn. Private housing repairs and maintenance fell 6.5% month-on-month while public housing repairs and maintenance dropped 0.8%.
April's output remained 3.3% above its pre-pandemic level and new work has continued to rise (0.9%).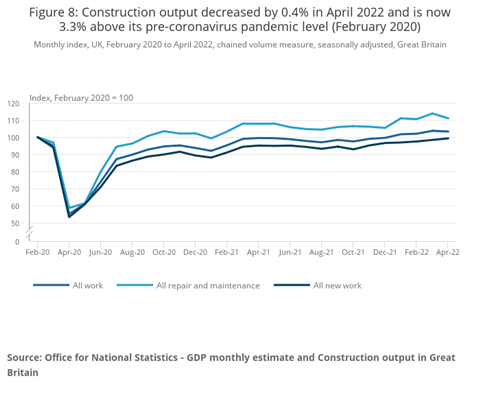 Simon Rawlinson, partner at Arcadis, said given the amount of supply chain disruption, the continued growth of new work was a "testament to the robustness of the industry and in particular the stability provided by both the housing market and infrastructure".
He added that the ONS data showed that "for the time being at least, the industry is in good health".