Slight drop in the first month of the year leaves sector a tenth smaller than January 2020
Housebuilding activity declined slightly in January, according to the first official figures covering the month.
The Office for National Statistics (ONS) said total housebuilding output fell by 0.4% in January, seasonally adjusted, with private housebuilding output very slightly up, and public housing output 4.7% down.
While the second half of last year saw private housebuilding recover much of the ground it lost in spring lockdown, when output fell by two-thirds, the January figures leave the total volume of housebuilding work still over a tenth smaller than the same month in 2020.
The ONS figures reported that private housing was down 7.2% year-on-year, while public housing output remained down by more than a quarter.
The housing numbers came as construction output overall returned to growth in January after falling markedly in the final month of last year.
The latest numbers showed construction output was up 0.9% in the month after a 2.9% drop in December 2020.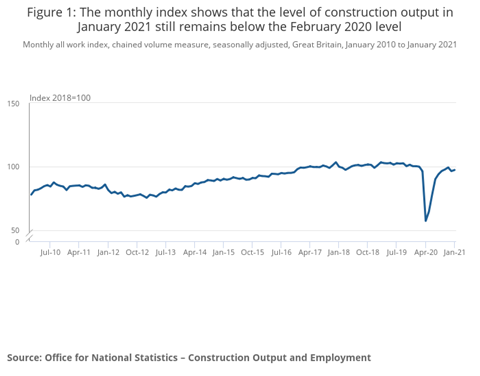 It said new work was up 1.7%, with demand for private commercial and infrastructure fuelling the hike with increases of 4.5% and 3.1% respectively.
But it said repair and maintenance fell by 0.4% in January after a 4.7% fall in private housing repair and maintenance, despite growth of 5% in public housing and 1.3% in non-housing repair and maintenance.
Overall new private housing work edged up 0.2% but new public housing was down 4.7%.
The figures said overall construction output was up 1.7% in the three months to January compared with the previous three months.
But the output level was still 2.6% below that recorded in February 2020 – the month before the covid pandemic struck sending the country into lockdown – although the scale of recovery since last spring was underlined in figures for all work.
It said the drop in output between February and April last year was 42.8% but since then has rebounded to grow by 70.3%.
Clive Docwra, managing director of consultant McBains, said: "January's growth of 0.9% could be significant given it is traditionally a quiet month in the calendar for construction and is certainly a welcome sign of the industry's resilience particularly in light of December's 2.9% fall in output.
"However, it remains too soon to tell what the long-term impacts of COVID-19 will be, with output still 2.6% below February 2020 levels."
And Paul Fenner, head of construction at accountant BDO, added: "The latest figures for January 2021 show that the sector's recovery is back on track. But risks remain and firms will need to keep a tight rein on costs and maintain strict financial discipline."