Getting hold of labour and materials causing "severe" loss of momentum in construction, purchasing managers' index finds
Growth in housebuilding activity in September fell to its weakest level since the initial recovery from the 2020 spring lockdown as supply chain problems took their toll.
The latest figures from the monthly Purchasing Mangers' Index (PMI) produced by CIPS and IHS Markit show that growth in housebuilding activity fell to 52.8, where any figure above 50 represents positive growth.
This is down from 55.0 in August, and is the lowest figure since the index hit 30.9 in May 2020.
The latest PMI data for housing came as total construction activity for September stood at 52.6, down from the score of 55.2 the month before and a fall of nearly 14 points from the 66.3 figure recorded in June, a 24 year high which is increasingly looking like an anomaly.
The survey blamed labour shortages, a lack of HGV drivers and ongoing problems getting hold of materials for the drop in growth.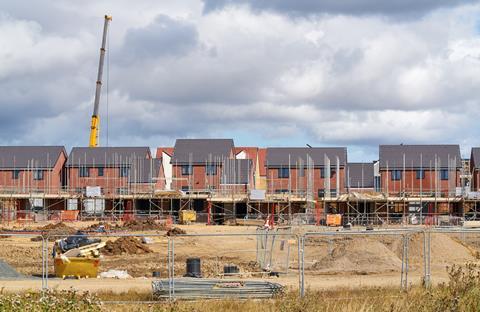 It was the sixteenth consecutive month the index overall has remained above the 50 mark, showing expansion, but the rise was the smallest since the beginning of the year when the country was in the grip of a third national lockdown.
Tim Moore, director at IHS Markit, which puts the survey together, said the numbers should begin to worry firms. He added: "September data highlighted a severe loss of momentum for the construction sector.
"The volatile price and supply environment has started to hinder new business intakes as construction companies revised cost projections and some clients delayed decisions on contract awards."
Jan Crosby, head of infrastructure, building and construction at KPMG UK, admitted: "Another month of slow growth is to be expected given the circumstances."
The survey indicated increasingly difficulty in getting hold of subcontractors to carry out work, with the steepest monthly rise in the amount subcontractors charged recorded since the survey began in April 1997.
The director of Lloyds Bank's infrastructure and construction team, Max Jones, said: "For now contractors are papering over the cracks by paying more to bring in and retain skilled workers to ensure projects remain on track but the worry is that this could create a long-term wage inflationary issue for the industry."
The ongoing rising cost of labour and materials also prompted a warning from Scape chief executive Mark Robinson to clients that they must pay their bills on time.
"Developers, public and private, will need to encourage open dialogue and prompt payment practices to support the health of our supply chains."