Latest forecast from Experian predicts output will remain below pre-pandemic levels this year and in 2022
Housebuilding activity is expected to remain below its pre-pandemic level until 2023, despite the rapid bounce back in the housing market, according to the latest predictions from Experian.
The firm's most recent forecast – finalised over Christmas and the new year in the wake of both the Brexit deal and rapidly rising coronavirus infection levels caused by the new variant of covid-19 – said housebuilding output dropped by 22% to just over £35bn in 2020 and will remain below pre-pandemic levels throughout this year and next.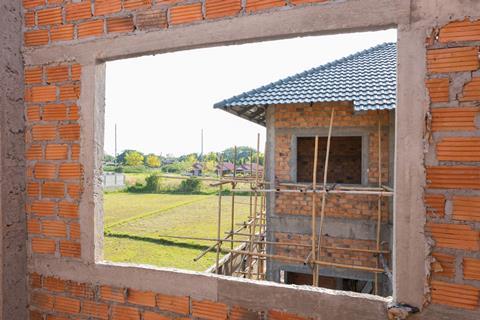 Experian forecasts that output will rise 15% this year, 8% next year and a further 5% in 2023, when it will finally move above the £44.9bn output seen in 2019.
The forecast says that the hit to output seen in 2020 has been most severe in the public housing sub-sector, where output has dropped by nearly 30%, making it the hardest hit of any part of the construction industry. Here, it says output is unlikely to reach the level seen in 2019 even by the end of the forecast period, in 2023, despite double-digit growth this year and next.
Experian said recent developments with the new strain of the virus meant it had revised down its forecasts for the strength and rapidity of the recovery for construction overall.
It said: "Despite much talk of a V-shaped recession and recovery, it is looking much more like an elongated tick (or a 'Nike tick'), with GDP not returning to end 2019 levels until the end of 2022 in real terms, 10 quarters after the sharp losses of Q2 2020."
Nevertheless, Experian said private housebuilding output will be supported by continuing strong demand for homes, even despite some short-term weakness as the current backlog of outstanding work eases, making for a "relatively healthy bounce back".
It said: "Ambitious housing targets and strong demand for housing, particularly in response to structural changes e.g. greater remote working, are likely to underpin momentum in this sector in the medium term".
Experian's analysis predicted that housing starts this year are likely to have fallen by just over a third – 34% - with the public housing element of that having fallen most rapidly.
The 22% 2020 fall in housebuilding output came in the context of a 17% fall in construction output overall, and an estimated UK GDP fall of 11%. The wider sector is predicted to have fully recovered output levels by next year, and to move significantly beyond this in 2023.