Official March figures show output surged 10% in March, though fears around materials shortages remain
Housebuilding activity leapt up by more than 10% in March, according to the latest official figures, putting output above the pre-pandemic level for the first since covid-19 hit.
The Official of National Statistics data showed that £3.7bn of housebuilding work was carried out in March, seasonally adjusted, an increase of 10.4% on February, and the highest figure since January 2020.
The figures showed that both private and public housebuilding work has now topped pre-pandemic levels, with the public housing share of housebuilding work growing to £539m, up 16% on February.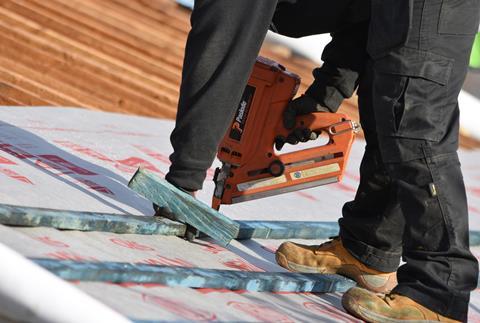 March also saw a sharp rise in repair and maintenance work on private housing, which is now, at over £2bn per month, more than 16% up on the pre-pandemic figure for February last year.
The ONS also said construction output overall in March this year was 2.4% above the February 2020 level – the first time it has topped the pre-pandemic level since the crisis started.
Overall construction output in March grew by close to 6% and was nearly £14.3bn – the highest since September 2019 when it was £14.4bn.
Repair and maintenance work is now 7.7%, or £377m, above the February 2020 level while the latest figures show that new work had just about regained parity, finishing £44m below last February's number, the equivalent of a 0.5% fall.
But amidst all the good news, several pointed to the ongoing materials shortages as an issue that could put the brakes on construction's continued recovery from the height of the first lockdown when output collapsed 44% last April.
Clive Docwra, managing director of consultant McBains, said: "While new contracts continue to come in, construction firms are being squeezed by soaring prices of imported materials, notably concrete, steel and timber."
And Fraser Johns, the finance director at regional contractor Beard, added: "As an industry we have to find ways to work around and plan ahead with supply chains to mitigate any serious delays, otherwise we're in real danger of undermining our comeback from ground zero a year ago."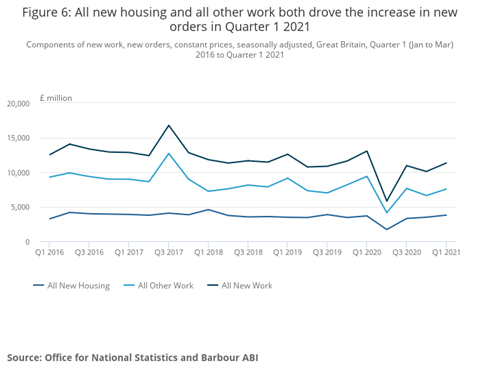 New work levels saw some sectors out-perform others, with private new housing among the main drives, up 9%.
New orders also jumped by 12% in the first three months of the year compared to the previous quarter. But they remained 13.3% lower than the first quarter of last year.