Criticism follows yesterday's announcement requiring electric vehicle charging points on all new homes
Housebuilders have branded plans by the government to require all new homes and those undergoing major renovation to install electric vehicle charge points from next year a "stealth tax" on the sector.
Prime minister Boris Johnson yesterday revealed plans that he said will see up to 145,000 extra charge points installed across England each year.
Johnson said the pledge was a "pivotal" moment in advancing the infrastructure for electric vehicles, ahead of the run-up to 2030 when the sale of new petrol and diesel cars will end in the UK.
However, the House Builders Association (HBA), which represents mostly small and medium-sized housebuilders, said the plans would land developers with significant additional costs, despite the fact energy companies would reap the benefits of thousands of new charging points.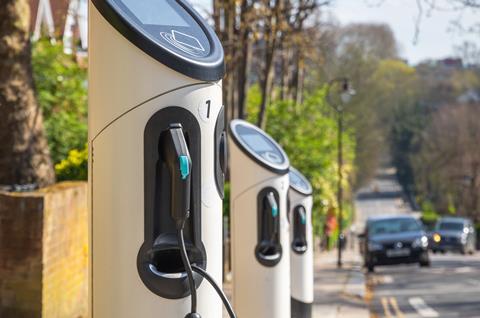 As well as new homes and non-residential buildings, those undergoing largescale renovations which leaves them with more than 10 parking spaces will be required to install electric vehicle charge points.
Johnson unveiled the details in a speech to the Confederation of British Industry in the north-east of England.
But Rico Wojtulewicz, head of housing at the HBA, said construction companies would have to foot the bill – while the electricity companies would profit from the extra demand – branding the move a "disgusting" way to treat the sector.
See also>>The £2bn cladding tax: the likely impact on housebuilders
The HBA, which is part of the National Federation of Builders (NFB), said that the rules would see developers required to fund substations costing upwards of £50,000 each for just a handful of homes, in order that electricity companies can provide enough load to new and old developments.
He said: "This Government has only been in power for two years and has already introduced four new and stealth taxes on the construction industry. EV charging will be the fifth. It's a disgusting way to treat a sector who worked throughout the Covid-19 lockdown to help pay for furlough and the impact of Covid-19.
"The Government needs to think very carefully about how it achieves a green revolution. It must require electricity companies to shoulder this cost, as they will be profiting from these investments in perpetuity."
However, the announcement was welcomed by Maria Connolly, head of clean energy and real estate at UK law firm TLT, who described it as a "game-changer". "It's hugely positive to see the government grasp the need for significant action on the climate and use the policy tools at its disposal to force a market-wide change that will drastically increase the number of charging points available," she said.
Michael Bach, chair of planning at the London Forum of Civic and Amenity Societies, said the government would need to be careful in drafting the new rules, to ensure that EV charging infrastructure wasn't installed needlessly on developments designed to be car-free.