Nationwide's figures for May come as 12% say they have put house purchases on hold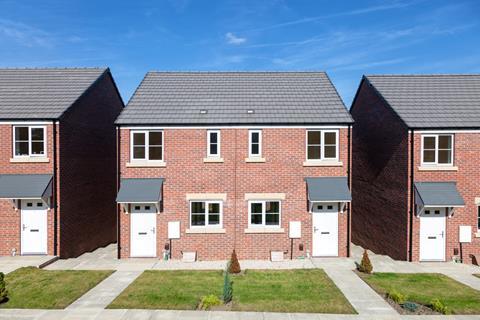 House prices suffered their biggest fall in May since the height of the global financial crisis more than a decade ago, according to the latest figures from the Nationwide Building Society.
The Nationwide said seasonally adjusted prices dropped by 1.7% in May, the steepest month-on-month fall since February 2009, though prices remain 1.8% higher than this point last year.
The firm also said it had surveyed customers and found significant changes in buying intentions, with 12% of the population having put off plans to move as a result of the lockdown. Data from HMRC released last month showed that the number of house sales in April was down 53% on the number in April 2019.
The fall comes despite reports of high demand from prospective buyers from property websites since the government reopened the housing market on May 12.
Robert Gardner, Nationwide's chief economist, said the medium-term outlook for the housing market "remains highly uncertain" and dependent on the performance of the wider economy, which had already seen a one-month fall in GDP as a result of the lockdown equivalent to the whole fall during the financial crisis.
However he said that the policies to support the economy should help limit long-term damage to the economy, and "also help ensure the impact on the housing market will ultimately be less than would normally be associated with an economic shock of this magnitude."
Despite these economic concerns, Nationwide's survey found that 15% of people said they were newly considering moving home given the experience of life in their homes in lockdown, with 45% of people saying they had reprioritised the need for a garden, space to work and supportive neighbours since lockdown began.
Lucy Pendleton, property expert at estate agent James Pendleton, said the fall was unsurprising as a "wave of gazundering" had hit the market, with four out of five buyers attempting to reduce the price of houses they were purchasing.
However, she said: "These buyers have been left feeling a little deflated. The vast majority of those who thought they would grab a bargain post-lockdown haven't," with only one instance of a purchaser obtaining a reduction of more than 2.5%.
Ross Counsell, director at Good Move, said: "Sellers need to adapt to continue to sell their properties. For example, they will begin to adjust their expectations on the price they will achieve and may be more inclined to accept a lower offer.
"We expect to see house prices bounce back fairly soon, but flats and other similar dwellings may take a much longer time to recover."