Quango to rework plans for Chalgrove Airfield after Civil Aviation Authority objects
Government housing quango Homes England has withdrawn its application to build 3,000 homes on the controversial Chalgrove Airfield site in rural Oxfordshire after the UK Civil Aviation Authority lodged a detailed objection.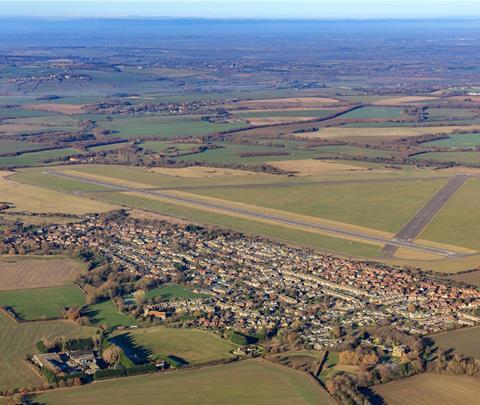 Homes England has been promoting the site (pictured, right) as the location for a new settlement since it was transferred to it from the Ministry of Defence in 2016. Its latest application was submitted in June last year but was never brought to committee.
The former airfield is occupied by ejector seat manufacturer Martin Baker, which has long claimed its business would be irreparably damaged if it was forced to relocate away from the airfield, or operate on a reduced site.
In documents published by the local planning authority, South Oxfordshire, the UK Civil Aviation Authority on May 19 said: "The site cannot accommodate both a housing development and Martin-Baker Aircraft Company Limited's specialised operation […] Our recommendation, as set out in our initial response letter is to discontinue development aspirations at Chalgrove Airfield".
In addition it said "The proposed new runway and wider aerodrome site is inadequate for the flight operations requirements of Martin-Baker Aircraft Company Limited", and, furthermore, that "Any reduction in the space currently available to Martin-Baker will directly impact their ability to carry out specialised testing and to service their customers".
A statement dated May 21 from Homes England, posted on the Chalgrove Airfield website, said that "The outline planning application for the development of Chalgrove Airfield is being withdrawn to allow an amended application to be submitted".
It said a forthcoming new application would "take account of comments from the Civil Aviation Authority's Airfield Advisory Team", despite the fact the CAA recommended Homes England end its development aspirations for the site.
The housing quango said its decision to withdraw the application "reflects Homes England's commitment to safeguarding Martin Baker's operations at Chalgrove."
Martin Baker, which invented aircraft ejector seats in the 1930s and claims to have saved more than 7,500 lives through their use since then, is seen as a UK manufacturing success story.
However, the site nevertheless forms a significant allocation in South Oxfordshire's contested local plan, which was forced through by housing secretary Robert Jenrick despite opposition from local leaders. Local politicians had opposed the plan because of the requirement in it for South Oxfordshire to meet unmet need from Oxford City, and campaigners are still involved in legal action to overturn its adoption last December.
The Chalgrove local plan allocation is dependent upon Homes England finding a way to accommodate both Martin Baker and the new community on the site, with the plan stating that: "Proposals to develop Chalgrove Airfield will be expected to deliver land safeguarded for the future operations of Martin-Baker to include a re-aligned runway to be designed in line with Civil Aviation Authority (CAA) standards."
Despite the CAA's comments, Homes England said "the importance of creating a new diverse, connected and active community at Chalgrove to urgently meet the considerable housing shortfall and deliver significant investment for the area remains unchanged."