Housebuilders may not be able to get approval under the new scheme before the end of the year
Housebuilders are concerned about a potential hiatus in sales following the publication of long-awaited details about how the new Help to Buy scheme starting next April will work.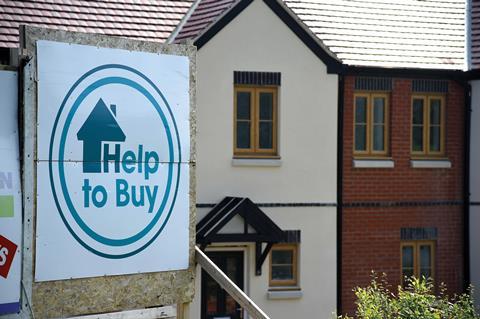 According to documents published by the government late last week setting out how the new Help to Buy equity loan scheme will work, it could be as late as December before housebuilders are formally approved to sell homes under the scheme.
The Home Builders' Federation (HBF) said it was concerned this would lead to a hiatus in sales, given that most of the sales expected under the current scheme have already been made. The Help to Buy equity loan scheme, under which buyers can effectively borrow a 20% deposit for a new-build home from the government, has been a huge boost to the industry, supporting the sale of 224,000 homes over the past seven years.
Last month the government agreed to extend the time by which construction of homes sold under the scheme must be completed, from December this year until the end of February. However, with most homes reserved by customers prior to completion, David O'Leary, policy director at the HBF, said that the selling of schemes under the old scheme had largely ended, to give time for construction completion.
Under the scheme, each individual housebuilder planning to sell Help to Buy homes has to sign a contract with housing quango Homes England.
But before housebuilders can get approved under the new scheme, they first have to submit forecasts of likely sales between April 2021 and March 2022. The computer system under which they can file these forecasts is not yet live.
Homes England has said that it expected it to be up and running shortly and that builders will be notified.
Only once these forecasts are agreed can builders go on to agree a contract with Homes England. The documents published last week state: "From mid to end October to December it is anticipated that the first builders fully in contract with agreed forecasts for 2021-22 will be able to market the new product and customers will be able to submit reservations to the Help to Buy Agent for assessment."
The detailed rules necessary for this to happen were originally supposed to have been published last year. The HBF's O'Leary added: "The danger is going to be that there is some kind of hiatus, where builders don't have stock to sell under the existing scheme, or agreed capacity with Homes England for the new scheme.
"It's a concern, as there are obviously multiple steps to the process.
"Recent experience of the contracting process with Homes England suggests it has taken a couple or even three months to get approved. There's clearly a danger that, with the volume of housebuilders applying, it becomes a problem."
Since its inception in 2013, it has helped 224,000 households to buy a new-build home, supporting sales worth almost £75bn, at a cost of £16bn. The new scheme, which will commence for home sales from April 2021, is limited to first-time buyers only and will impose regional caps on the value of homes that can be supported, ranging from £186,100 in the North-east to £600,000 in London.
In addition to the details of the process, last week's documents made clear that housebuilders will have to comply with a series of new stipulations in order to qualify for the scheme.
These include registering to be part of the New Homes Ombudsman scheme, as well as signing up to the Building Safer Future charter and the Consumer Code. Any housebuilders who are part of the HBF's star rating customer satisfaction scheme must display their rating prominently in Help to Buy sales, and alert Homes England if their performance declines.
In addition the documents said the government reserved the right to bring in new quality standards as a minimum threshold for participating in the scheme. It added: "Developers are also put on notice that the secretary of state reserves the right to prescribe further build quality standards for the Help to Buy 2021-23 programme as they may prescribe and publicise from time to time."
O'Leary said these new stipulations had been expected and did not raise huge concerns. He added: "The idea that the government is using Help to Buy to solve issues like leasehold and quality issues is not a surprise. We expect any new quality requirements would only be introduced in extreme circumstances."