Fourteen groups highlighted for not starting cladding work
The government has published a list of companies who have failed to begin removing the cladding blamed for the Grenfell Tower fire from buildings they are responsible for.
In an update on the progress of ACM remediation works, the Ministry for Housing, Communities and Local Government (MHCLG) said 14 organisations have yet to start on site remediation works.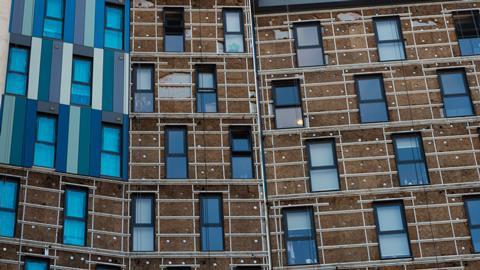 The MHCLG said it publishes a list of groups that have told the department that they are responsible for remediation, but where works have not started on at least one of their buildings.
Meanwhile, in its ACM cladding remediation update for December 2020, the ministry said work has begun on at least 90% of identified buildings.
It said of the 462 high-rise residential and publicly owned buildings identified with ACM cladding, remediation has either completed or started on 417 – 31 more than in November.
And it said 297 buildings have either completed remediation or have had their ACM cladding systems removed – meaning there are 165 buildings still with ACM in place.
Of those where ACM has been removed, 216 buildings, or 47% of all identified buildings, have fully completed remediation – an increase of three since the end of November. A further seven buildings are vacant.
Overall, 304 buildings, or 66% of all identified buildings, have had their cladding systems removed or are vacant so no longer represent a risk to resident safety.
But there are still 38 occupied buildings yet to start remediation.
The update also provided an overview of the progress made across 2020, saying as at 31 December 2020, of the 462 buildings with ACM remediation had either completed or started on 417 buildings – an increase of 159 from 258 at the end of December 2019.
The 14 companies the housing ministry says have not begun to remove ACM cladding
Betterpride Limited
Chaplair Ltd
Henley Homes RF Limited
Inspired Sutton Ltd
Kamario Limited
Landor Residential Limited
Old House Group Limited
Peel Media Limited
Pinelink Developments Limited
Proxima GR Properties Limited
Rockwell (FC100) Limited
Rocquefort Properties Limited
Sanhall GR Limited
STG Management Limited