Radical measure was one option presented to ministers as part of drive to cut red tape
Scrapping building control and replacing it with insurance was one option considered by the government as part of its drive to cut red tape, the Grenfell Inquiry has heard.
Wednesday's hearing was shown a briefing pack written by officials to prepare junior minister Andrew Stunell for a meeting with cabinet office minister Oliver Letwin in May 2012 during the coalition government.
Letwin, who was minister of state for government policy at the time, was leading the cabinet office's "red tape challenge" which required officials to scrap one existing regulation for every new regulation introduced.
The purpose of the meeting was for Stunell to present a series of options for cutting regulations for Letwin to consider.
Headings in the briefing, which was shown to Bob Ledsome, deputy director of building regulations between 2011 and 2018, included "What else could we scrap or amend?" and "What have we done to deregulate so far?".
Under the latter heading, the document said: "A lot of work has been done to deregulate and simplify Building Regulations in recent years."
It also included a sentence in bold saying: "Is there anything else we could scrap or amend e.g. introduce radical ideas like insurance to replace building control."
Counsel to the inquiry Richard Millett QC asked Ledsome: "Did that focus there cause you any concern, particularly in the light of the significant deregulatory work that the department had already done?"
Ledsome replied: "No, because we were asked, quite rightly so, to think broadly about options for ministers to consider."
He added that officials were "providing ministers with the widest range of issues and options for them to think about".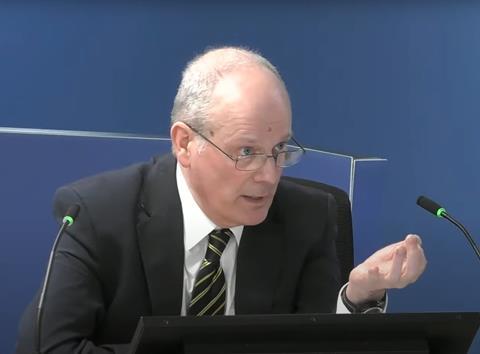 Millett then asked Ledsome if there had been any discussion within the government about the merits of limiting the requirements of the "red tape challenge" within building regulations.
Ledsome answered: "Probably not."
The hearing then turned to the government's planned revision of fire safety guidance in response to the Lakanal fire, which killed six people in 2009. An investigation had found that the fire, in Camberwell, London, had been caused by combustible cladding panels.
Assistant deputy coroner Frances Kirkham had advised the housing department to update a section of Approved Document B, the part of the building regulations which deals with fire safety, on 28 March 2013.
See also>> Government official apologises for muddled wording in fire safety guidance
See also>> Gove's cladding remediation fund what are the rights of housebuilders now
She said that the document needed to be made clearer for construction firms carrying out refurbishment and not just professionals with "a depth of knowledge of building regulations".
But the department had decided to revise the entirety of the 300-page Approved Document B rather than just the section recommended by Kirkham – meaning that the work was likely not to be completed before 2016.
The combustible cladding on Grenfell tower was installed between 2015 and 2016.
Ledsome said that officials decided that "the best way forward in delivering an improved Approved Document B as a whole was to conduct the full review".
Millett pointed out that the department's approach to the revision meant that regulations would not have been changed for seven or eight years after the Lakanal fire.
He asked Ledsome if he ever considered ensuring Kirkham's specific recommendation was carried out "without necessarily having to go through the whole process of amending and reviewing Approved Document B wholesale, which is, after all, not something that the coroner asked for".
Ledsome replied that changing the section requested by Kirkham would not have been a "straightforward job" and said officials were focused on the "overall programme of work".
But he admitted: "Looking at it now, yes, perhaps we should have […] taken a harder look at this and been bolder about saying: 'Well, actually, can we do something more quickly with this?' even if it means, for example, that all the other things that we've got on our plate or priorities we have to say, 'Sorry, we've got to put those down the track.'
"And clearly we did not put those options to ministers and perhaps we should [have]."
Millett asked: "Given that this was life safety, I think the question really is: Why was that exercise not the matter of utmost priority?"
Ledsome replied: "Well, it's very difficult for me to say. We thought we were doing the right thing in the way that we were trying to approach this recommendation. I accept all that you say about it. I mean, that was the view that we took at the time."
The inquiry continues.