Fund to pay for installation of fire alarms
The government has announced a £30m fund to reduce waking watch costs incurred by residents of high rise buildings.
The Waking Watch Relief Fund will pay for the installation of fire alarm systems in tall buildings with cladding to reduce the need for round-the-clock monitoring for signs of fire, which was costing leaseholders in these buildings an average of £137 a month.
It follows recent guidance by the National Fire Chiefs Council that building owners should install fire alarm systems as quickly as possible to remove dependence on waking watches.
Housing secretary Robert Jenrick said the fund would help relieve financial pressure from the "rip-off" costs, which he said had been causing "misery" for leaseholders.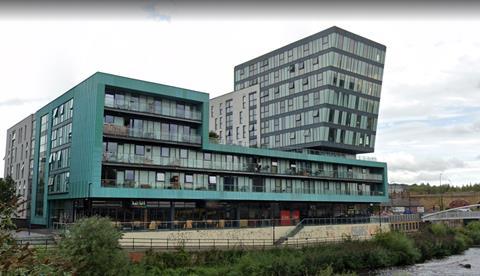 It will open in January, but will be available immediately for the 10-storey Wicker RIverside Apartments (pictured) in Sheffield, where 35 apartments above the sixth floor were evacuated last week after the building failed fire safety tests.
The government said the residents should be able to return by Christmas to their homes in the building, which was found to have issues with smoke ventilation, fire escape procedures, wall cavities and cladding in a routine inspection.
National Housing Federation head of building and fire safety programmes Victoria Moffett welcomed the government "recognising the huge and unfair costs that many leaseholders are having to pay for waking watch measures".
She added: "Housing associations have been doing whatever they can to cover waking watch costs and not pass them on to leaseholders, but the number of buildings that require additional safety measures until remedial works can be carried out means this isn't always possible."
A six-month extension to the deadline for building owners to complete their applications to the £1 billion Building Safety Fund has also been announced. The new deadline for submissions is 30 June 2021.
Moffet said the extension was "helpful" as housing associations had struggled to assess all of their eligible buildings in time for the original deadline, but she called on the government to take on the national coordination of safety experts and resources and "commit to funding all the safety works upfront".
RIBA Fire Safety Expert Panel chair, Jane Duncan, said it was a "small step in the right direction", but added: "However, it still doesn't go far enough – only applying to those residential buildings above 18m that have been identified at risk – leaving many people in unsafe homes.
"We need a much more thorough and detailed approach, alongside a Building Safety Bill that comprehensively and urgently overhauls and clarifies our substandard building safety regulations."