New 'Help to Build' scheme will work in the same way as Help to Buy
Self-build groups have welcomed the government's decision to allocate £150m to a new "Help to Build" scheme to finance self and custom-builders and initiate a review into scaling up the sector.
The Help to Build scheme, first announced at the 2020 spending review last autumn, is being designed to assist self and custom-builders in the same way that the Help to Buy equity loan scheme works, by providing them with a loan to use as a deposit.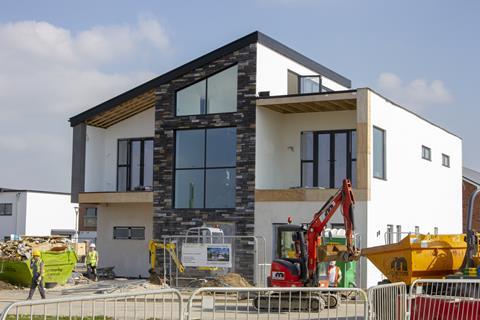 The housing ministry today said the scheme had been allocated £150m of funding, and committed to publish a prospectus setting out the scheme details later in the spring, prior to applications to the scheme opening in "late summer".
However, beyond stating that the scheme will work in a similar fashion to the Help to Buy scheme, in which homebuyers without access to a large deposit are loaned 20% of the value of a house by the government, there has been no further detail on how the scheme will work.
The funding came as part of a government push on self-build, with the announcement at the same time that prime minister Boris Johnson had written to Conservative MP for South Norfolk Richard Bacon to commission an independent review of the sector in order to draw up a "plan for a major scaling up of self-commissioned new homes".
This new review comes on top of a review of legislation affecting the self- and custom-build sector, commission by the housing secretary Robert Jenrick last autumn. The government also published a brief action plan setting out when reforms were to take place.
Andrew Baddeley-Chappell, chief executive of the National Custom and Self Build Association (NaCSBA) welcomed the government's announcement of £150m of funding for the Help to Build scheme and the commitment to the sector in the Action Plan. He said: "This Action Plan will ensure an environment exists in England that delivers more and better homes.
"Our focus now is ensuring that the public sees this as a natural approach to getting a new home that meets their aspirations and needs. As a sector, we need to do more to build the business capacity and structures that underpin the choice that exists elsewhere.
"Finally, we need councils to do their bit to ensure the plots that are needed are permissioned, so that these homes can be built."
The government's review of legislation comes after NaCSBA voiced fears the councils were sidestepping their legal obligations to provide sites for self-builders. By law, councils have to set up registers of local interest in securing a self-build plot, and then ensure enough such plots are permissioned, however NaCSBA accuses councils of falsely suppressing demand and government data indicates need is not being met with permissions.
Housing secretary Robert Jenrick said the policies were designed to ensure that building your own home wasn't just the preserve of a small number of people. He said: "The scheme we have launched today will help the thousands of people who'd like to build their own home but who've not yet considered it or previously ruled it out.
"Our plans will help get more people on to the housing ladder, ensure homes suit people's needs like home working or caring for relatives, whilst providing an important boost to small builders and businesses too."
According to the action plan, Richard Bacon is scheduled to deliver his plan for scaling up the sector by summer, with the legislative review also set to conclude at the same time.