It is the latest stage in a scheme which will deliver more than 2,200 homes
Salford City Council has given the go ahead for the third phase of Manchester's 25-acre Middlewood Locks development, it was announced today.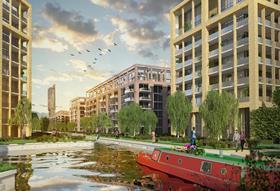 The mixed-use development, which has a gross development value of £700m, is a joint venture between Scarborough International Properties, the Hualing Group, and Singapore-based Metro Holdings.
It is centred around three large basins of the Manchester, Bolton and Bury Canal which connect to the River Irwell.
When completed, the development will provide 2,215 new homes and 900,000 sq ft of commercial space.
Detailed planning permission has been granted for 189 homes to be built, the vast majority of which will be one to three-bedroom apartments in two buildings of 10 and 12 storeys on the northern side of the canal.
Thirteen three to four-bedroom townhouses will also be built during this third phase.
They will bring the total number of new homes under construction or completed to 1,306 to date.
Work on the new swathe of housing is expected to begin early next year, with completion expected in late 2022.
This latest phase of the development will also incorporate 5,150 sq ft of ground floor commercial and retail space, and 4,970 sq ft of offices.
Paul Kelly, development director at Scarborough, said: "We are delighted to secure consent to move forward with phase three as part of our full commitment to deliver the grand vision that is Middlewood Locks."
Beijing Construction Engineering Group International is the construction partner on the development, whilst Whittam Cox Architects is design partner and Zerum is the scheme's planning advisor.