Deputy mayor for housing Tom Copley promises to get London building at "pace and scale" once safe to do so
London's deputy mayor for housing has promised to develop a "recovery plan" for the sector in the wake of the covid-19 crisis that has put thousands of residential projects on hold.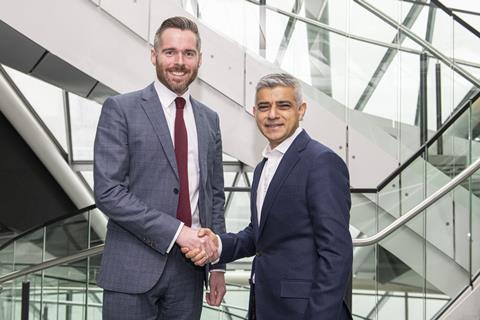 Former London assembly member Tom Copley (pictured, left, with London mayor Sadiq Khan), who only formally took up his new position at the end of March, has sent an open letter to the London housing sector pledging to develop a plan which will leave it "well-placed to bounce back" and more resilient in the long term.
Copley's comments follow the publication of an end of year statement by the chief executive of Homes England, Nick Walkley, which said the government's housing agency will be working up a package of measures to support the industry outside the capital.
Within London, however, the Greater London Authority led by mayor Sadiq Khan has responsibility for funding the housebuilding and housing association sector.
Copley said in his letter that the GLA and its Homes for Londoners team were in the short term focusing on supporting vulnerable Londoners through the crisis by providing hotel rooms and other self-contained accommodation.
However, he said: "In the medium and longer term, I do not think that the impacts on housing, development and construction can be understated.
"It is clear that we will need to act to ensure that housing delivery in London can continue at pace and scale once it is safe for that to happen, and I am ready to work with government to ensure that partners are not penalised for having to compromise on delivery during this crisis."
He said he had convened a small taskforce of leading housing delivery professional to feed back to the GLA on the impact of the pandemic on the sector.
"My team and I will listen and develop a recovery plan for the sector which we will work with government to deliver. This plan will seek not only to ensure that the sector is well placed to bounce back, but also that the long-term resilience of the sector is improved and that we are able to deliver the social rented homes that London so desperately needs."
He said his plan would require "much greater funding from government for social and council housing" and new powers for councils, without specifying what those would be.
His comments follow calls from a wide range of sources for a significant government intervention to support the sector, with the RICS, the Home Builders' Federation and estate agency Savills all calling for public sector intervention in recent days.