The development in Croydon, south London, will be completed next year, having started in February 2018
Developers have installed the final unit onto what is set to be the world's tallest modular residential building.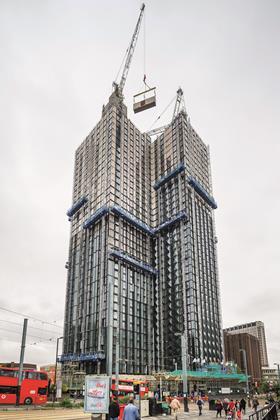 Tide Construction craned the last housing module into place on the 136m-tall 101 George Street scheme (pictured), opposite East Croydon railway station, last week.
The units were built in Bedford by Vision Modular System, Tide's offsite manufacturing company.
The 44- and 38-storey-towered scheme will feature 546 rental apartments, comprising 1,526 modules. The homes will be managed by Greystar, the US real estate specialist.
The development, designed by HTA Design, will be completed next year, having started in February 2018, and in half the time it would have taken to deliver a similar scheme using traditional construction methods.
Christy Hayes, Tide Construction's chief executive, said construction of the towers began in February 2018 after planning consent was gained in November 2017.
"Once the concrete cores of the two towers were complete, Vision Modular Systems' pre-fitted, pre-plumbed and pre-wired modules began arriving on site. We successfully installed the last module in just 35 weeks, three weeks ahead of an already tight schedule.
"As we reach this exciting milestone, already 80% of the glazed terracotta facade has also been completed."
Hayes said more than 80% of the glazed terracotta facade for the building had also been finished.
Once it is finished 101 George Street will be higher than the world's previously tallest residential modular towers, Clement Canopy Towers in Singapore (130m tall) and New York's 461 Dean Street complex (109m).
HTA Design's managing partrner Simon Bayliss said modular housing could only play a major part in addressing the UK's housing shortfall by what he called "a concerted effort to reform the planning system. The current planning process doesn't provide the certainty and stability required to scale up modular construction.
"If we are to take the industry into a new age of digitisation and innovation, central and local government must bring planning into the 21st century."