Public body has revised its proposals after the collapse of negotiations over Car Giant site in north-west London
The development corporation overseeing the regeneration of former industrial land around the proposed Old Oak Common HS2 station has submitted new proposals for 25,000 homes in the area.
The revised local plan has identified a series of new sites on which to deliver the homes. In 2019 a planning inspector struck out the Old Oak and Park Royal Development Corporation's plans for thousands of homes in the north of its 650-ha designation.
That decision followed the collapse of negotiations with the owner of the 54-ha Car Giant site over taking on the land, on which the corporation had planned to build 4,700 homes, amid a rise in the value of logistics sites.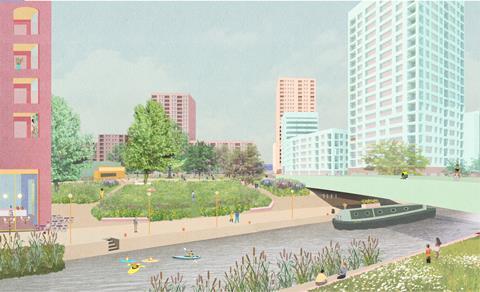 The corporation – known as the OPDC – said the new plan sought to protect existing businesses in Old Oak North, such as Car Giant, by designating key sites for long-term employment.
The new plan moves the focus of the regeneration scheme around the new Old Oak Common HS2 station, where much of the land is owned by Network Rail and the Department of Transport. The chief executive of the OPDC, David Lunts, said that by focusing on public sector sites, the plan was more deliverable than the original proposals.
"By focusing on public sector-owned sites we can coordinate major regeneration at scale, fully exploiting the amazing potential created by the largest new rail station to be built in over a century here at Old Oak Common," he said.
The OPDC said it will shortly be submitting a bid to government for infrastructure funding to build new access roads, bridges and utilities. David Lunts said 6,000 homes were already underway, and that he hoped the plan will be adopted before the end of the year.
The mayor of London, Sadiq Khan, welcomed the draft plan, which he said complemented his recently published London Plan. "I look forward to seeing this plan adopted and a healthy and inclusive new district emerge in this important part of west London," he said.