Groups say new research on housing build out debunks landbanking 'myth' promoted by councils and politicians
Less than one in 20 housing permissions are left to lapse and not built out, according to a detailed analysis of schemes commissioned by housebuilder groups which they say debunks the idea that developers are "hoarding land" without building on it.
Directors of the Land Promoters and Developers Federation (LPDF) and the Home Builders' Federation (HBF), which commissioned the "deep dive" study of five planning authorities from planning consultant Lichfields, said the data showed councils were "hiding" behind "misleading" data from the Local Government Association in order to avoid planning for enough new homes.
However, the research also showed that five years after the permissions studied were granted, less than half of the homes permissioned – 42.5% - had in fact been built out.
The study concluded that the commonly-held view that developers are hoarding land was largely due to the time taken to build out homes. It reported that the same proportion of permissioned homes that had been built out in five years – 42.5% - were still in the pipeline and due to be built out after the end of the study period.
It found that 11.7% of homes in the permissions studied were subject to re-plans as circumstances changes, with the remainder of homes, just over 3%, in permissions that were allowed to lapse.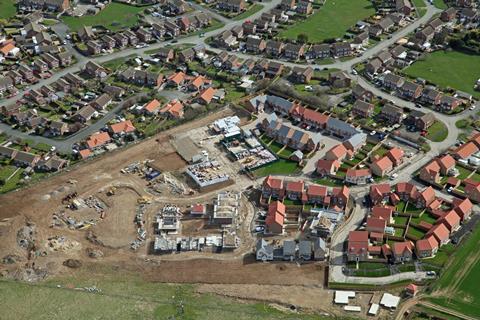 The study is intended to rebuff figures produced annually by the Local Government Association which show that over the last 10 years more than one million homes have been permissioned that remain unbuilt – about two fifths of the total permissions granted.
Lichfields study concluded that while the permissions studied – which included both full and outline permissions – inevitably took time to build out, that none of the analysis suggested "any systemic failure in converting planning permissions to development by the industry."
It said the difference in the number of homes permissioned each year and the number built out was "readily explained" by "the time it takes to progress development through the regulatory stages", as well as the risks associated with small site delivery, "the overall phasing of build-out on larger sites", and the need for new planning permissions to allow changes to planned development schemes.
The study follows a number of detailed studies of the planning system, including by economist Kate Barker and, most recently, by former cabinet office head Oliver Letwin, which have not found evidence of classic "land-banking" by developers. Letwin's review found that build out rates were largely determined by the economic "absorption rate" of local markets for new homes.
Despite this, former housing secretary Robert Jenrick said earlier this summer he was considering introducing a developer levy on unbuilt permission in order to boost build out rates on permissioned sites.
Paul Brocklehurst, chairman of the LPDF, said the research showed a "gross over-simplification in the analysis by the Local Government Association frequently quoted in the national press and by many politicians regarding the stock of unimplemented consents."
Andrew Whitaker, planning director at the HBF said the report showed planning authorities were "hiding" behind "misleading" LGA numbers were and called on them to deliver local plans and allocate sites. He said: "This myth that house builders land bank has been dismissed by a growing number of independent reviews. As this latest research demonstrates, aggregating numbers of outstanding planning permissions misses the 'story' behind each and every site that comes forward for development.
"Planning system issues remain the biggest barrier to the industry delivering desperately needed homes and the Government's housing ambitions."
The study looked at 593 permissions for just over 18,000 homes across five separate planning authorities, where more detailed information on development progress was available than is usual. The councils were Central Bedfordshire, Wandsworth, Colchester, Stratford-on-Avon and Cheshire East, with just over half the permissions outline permissions.
The study reported much quicker progress converted full planning permissions to completed homes than for outline permissions, with 57% of those granted full consent built out over the five year study period.
It said its analysis suggested that typically it could be expected that in a five year period: 3-5% of homes permitted will be in permissions that lapse or stall; 10-15% will be re-planned; 35-50% will have been built out; and 35-50% will remain "live" but yet to be constructed.
Paul Brocklehurst added: "The Government's Planning White Paper process has exacerbated the impact of the pandemic on the operation of the planning system causing many LPAs to pause, delay and abandon their Local Plan process. Urgent action is needed to ensure that the housebuilding industry, on top of the labour and supply chain challenges that they face, is not confronted in the near term with an inability to restock its land."
A spokesperson for the LGA said its latest figures showed that 2,782,300 homes have been granted planning permission by councils since 2010/11 but that over the same period only 1,627,730 have been built, which was "a shortfall of more than 1.1 million homes".
The spokesperson said: "The number of planning permissions granted for new homes has more than doubled since 2010, with 9 in 10 planning applications being approved by councils.
"While there will be in some cases legitimate reasons as to why development has stalled, and it is recognised that there is a time lag between permission being granted and homes being built, new build completions have only increased by just over half as much in that time. No-one can live in a planning permission."
The LGA is calling on government to introduce measures in the forthcoming Spending Review to incentivise developers to build housing more quickly, such as by giving councils powers to be able to levy council tax on stalled sites.