Denbigh developer Jones Brothers to present plans to the public next month
The conversion of a former psychiatric hospital in north Wales into 300 homes took a step closer this week after local residents were invited to view the plans next month.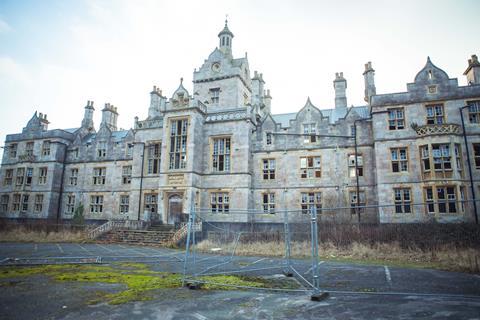 Civil engineer Jones Brothers, of Ruthin, Denbighshire, will host a consultation meeting in Denbigh on 2 December ahead of submitting its plans to the local authority to turn the derelict Denbigh Asylum into a new residential development.
Built in 1848, the hospital once housed 1,500 patients and 700 staff. It was closed in 1995 and the site, which was compulsorily purchased by Denbighshire county council, has remained vacant. It is also said to be one of the most haunted buildings in the UK.
Jones Brothers reckoned the scheme would take a decade to complete, once planning is granted.
The firm said the plan would be for the U-shaped central section of the hospital to be restored and turned into residential apartments, along with a mix of services which could include shops, restaurants and a gym for local residents.
Helen Morgan, of Jones Bros, who is overseeing the project, said the proposed 300 new houses would be released gradually, "so as not to flood the market, while ensuring that there is controlled sustainable growth in the community".