Scheme will see 2,170 new homes built in £800m project
Countryside and Kingston council have been granted outline planning permission for a 2,170-home regeneration scheme in south-west London.
A joint venture between the partnerships housebuilder and London borough has been given the green light for the redevelopment of the Cambridge Road Estate, which was built in the late 1960s and early 1970s.
Under the plan, 832 existing homes will be demolished, and 2,170 new homes built.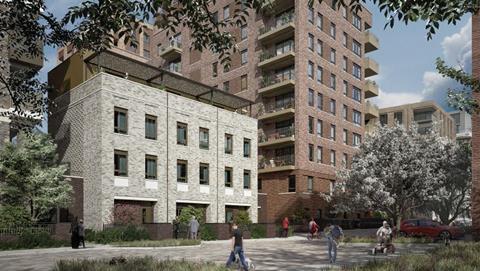 The masterplan contains a mix of flats and homes of various sizes. Four in five of the new homes, 1,784, will be one or two bedroom, 336 will be three bedroom and 50 will be four bedroom or more.
A detailed planning application has also been approved for the first 452-home phase of the regeneration, which will also include 1,250 sq m of community space, 290 sq m of office space and 395 sq m of retail/commercial space along with new public open spaces.
The plans were backed by residents in a ballot last year.
With planning approval now granted, construction is expected to begin in summer 2022.
Daniel King, managing director, west London & Thames Valley, Countryside, said: "Following the widespread support for our Cambridge Road Estate regeneration in the residents' ballot, we are proud that our masterplan has been approved.
"We have put the community at the heart of these plans and so we are truly excited to begin delivering this vision.
"The regeneration of the Cambridge Road Estate is vitally important for local residents and the area as a whole, and so we are committed to working in partnership with the community and Kingston Council to deliver the regeneration for the benefit of existing residents and the wider community."
See also>> Genius or folly? Why Countryside's decision to get out of housebuilding is causing a stir
Emily Davey, housing portfolio holder for housing, at Kingston council, said: "This project will deliver a boost for Kingston. It puts us on the path to delivering on our priorities to tackle climate change and increase the number of affordable homes, new jobs and apprenticeship opportunities in the borough.
The Kingston project is the latest regeneration partnership deal entered into by Countryside, which last year announced plans to wind down its spec housebuilding division to focus on place making and regeneration through its partnerships business.
Countryside and housing association giant L&Q have also been granted planning approval for 215 new homes in west London by Ealing Council. The homes are part of a £800m redevelopment of the former South Acton estate. Countryside was last October selected by Metropolitan Thames Valley to deliver its 2,500-home regeneration project in Clapham Park, south London.