Hyde works on scheme to shift Corbet House in Southwark across London to Ealing
Ealing council and Hyde housing have worked together to refurbish an existing set of 18 modular demountable homes and move them from one side of London to another to provide homes for homeless families.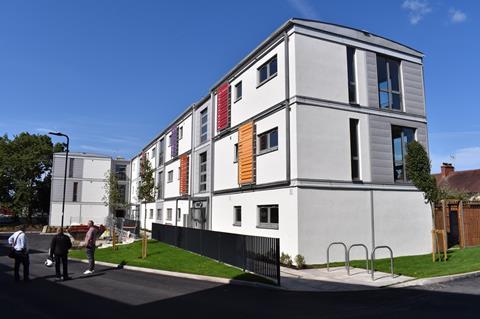 The homes, installed as Corbet House on a "meanwhile" site in Southwark by Hyde in 2003, have been fully refurbished and fitted with new white goods to provide quality accommodation for local homeless households.
The modular units were moved by a fleet of trucks across London to a site on Lambourn Close in Ealing, where they have been installed and renamed Chris Payne House after a local councillor who died in 2014.
Ealing bought the homes from Hyde for just £110,000 according to council papers, then spending £2.6m on refurbishing and moving them. Under the works the council modified the layout of Hyde's original homes to create two much-needed four-bedroom family apartments, as well as fourteen one or two-beds.
The homes at Chris Payne House are to be rented to homeless Ealing residents while they look for a permanent home. Hyde said the flats will deliver a saving of around £125,000 a year for the council by reducing its bill for bed and breakfast accommodation.
Councillor Peter Mason, lead member for housing, planning and transformation at Ealing Council said buying new building would have cost the council at least £4m. He said: "Reusing perfectly good buildings that would otherwise have been scrapped means we're getting excellent value on our investment."
Guy Slocombe, Hyde's chief investment officer said: "Hyde was the first UK company involved in constructing a demountable housing project, and we have now demounted and relocated the homes. This was all thanks to a very interesting logistics plan and a fleet of very large trucks, which reloacted the units to Ealing, who have remounted and finally delivered the units for the next round of residents to make home."