EcoWorld London appealed council's decision to throw out 37-storey Goldsworth Road plans
A government planning inspector said the Surrey commuter town of Woking is suitable for tall buildings after he overturned a decision by the local council to throw out plans to build five new tower blocks, the tallest of which will be 37 storeys.
The 900-homes scheme by architect JTP was booted out by the borough council last January but EcoWorld London appealed.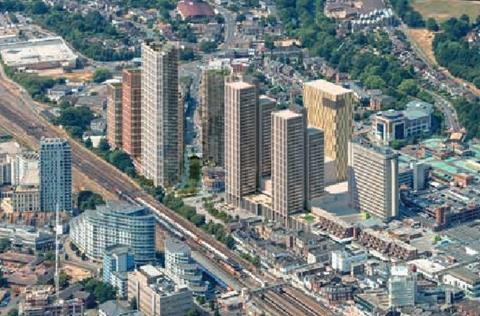 This week inspector John Braithwaite sided with the developer and said the complex – which includes an acre of public space and a rebuilt night shelter – would "contribute significantly" to the council's housing need.
He added the scheme would "not harm the character and appearance of the area" and said: "It is not… a question of whether the appeal site is a suitable location for tall buildings but a question of how tall the buildings should be."
The Goldsworth Road development will also include blocks of up to 29 and 21 storeys with the lowest block running up to nine storeys.
Opponents had complained the towers will be taller than the town's existing high-rises which include blocks of 34, 30 and 23 storeys.
Work will involve demolishing an athletic club's base as well as a day centre although the running club will get a new home.
The scheme is expected to start later this year.
EcoWorld London, part owned by Willmott Dixon, is part of Malaysian firm EcoWorld International which is listed on that country's stock exchange.