Savills and JLL say a lack of robust information from landlords on cladding is bedevilling attempts to get market moving
Two of the largest UK property consultants have warned that they remain unable to value many housing blocks in the wake of the cladding crisis, despite recent reforms to the EWS1 process for assessing fire safety.
A joint statement by Savills and JLL issued yesterday welcomed the recent move by the RICS to reform the EWS1 assessment which lenders and insurers have been using to ensure housing blocks are fire-safe.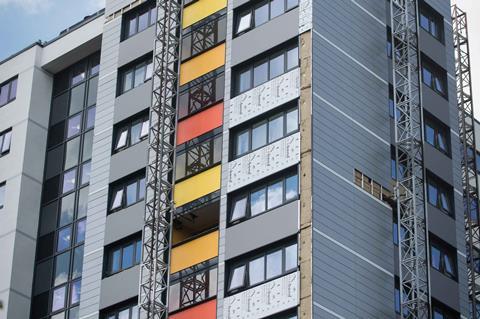 However, the firms said that a combination of a lack of trained assessors and a failure by housing associations to provide necessary information on their buildings meant that "we may in some cases have no option other than to advise a lender that we cannot attribute a value to a building".
Leaseholders in thousands of housing blocks across the country have been unable to sell their homes since the Grenfell tragedy after it became clear that thousands of properties were not sufficiently fire safe.
Many have been hit with bills of tens of thousands of pounds for repairs despite the blocks being declared fire safe when they moved in.
Savills and JLL, who work for lenders to value affordable housing blocks, warned they were finding it particularly hard to secure accurate information about blocks of less than six storeys, because landlords had "rightly and understandably" prioritised taller buildings which were higher risk.
The firms have drawn up a standard set of questions to put to landlords of housing blocks when attempting to assess their value. These questions include the nature and extent of cladding material used on the block, the extent of the block's compliance with the government's Building Safety Programme Advice Note dated January 2020, and the ongoing cost of any necessary remedial work to bring the block up to standard.
It said: "We appreciate that not all borrowers can provide complete answers for all buildings that we are asked to value", but said that, nonetheless "The onus is on RP borrowers to provide us with sufficient, reliable information from which we can assess a robust valuation."
Where the firms are unable to value properties, the firms said it didn't necessarily mean housing blocks had "nil" value, just that it couldn't be determined at the present time for lack of information.
The statement said: "The fundamental difficulty we all face is that essential fire safety works are neither optional nor deferrable – it is a binary question as to whether or not a building is compliant with current regulatory and legislative requirements."
The also said that despite the recent RICS reform of the EWS1 assessment, which suggested that buildings under four storeys in height should only require the assessment if they contained ACM, MCM or HPL cladding, it continued to believe that building of that height would likely need to be assessed if they were clad in "extensive timber and insulated rendered panels".
The full statement is available in the attached file.