Chair of the Construction Leadership Council says abandoning 2m social distancing will help small sites
The chairman of the Construction Leadership Council has said the government's decision on Monday to relax the 2m social distancing rules is likely to particularly benefit housebuilders, but warned the industry restrictions will not disappear overnight.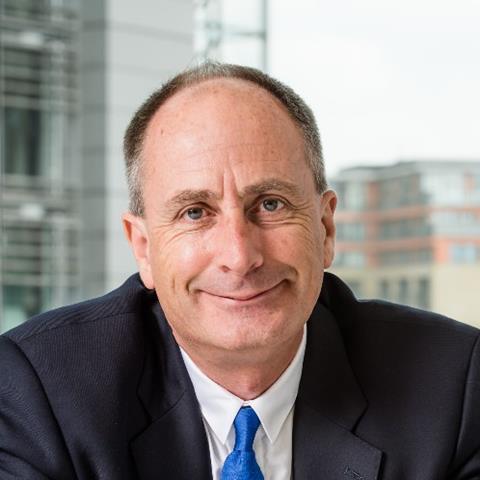 His comments follow a series of government measures which will see the current 2m rule relaxed to "1m plus" from 4 July.
Firms have been struggling to get productivity on sites up to pre-covid levels as companies have been asked to stick to strict social distancing protocols, with Berkeley last week saying productivity was at around 80% of normal levels.
Industry body Build UK has also said output on sites is on average over 20% lower than pre-pandemic levels.
Andy Mitchell (pictured, above right), chairman of the Construction Leadership Council (CLC), said the further easing of lockdown measures would have a mixed effect for the whole construction industry, but that housebuilders would likely be among those to benefit.
He said: "Housing and smaller building works, where you don't have the space in the first place, the 2m rule makes things a lot more difficult. This will open up more work types that they can do. I think we've got to welcome it because it's bound to help."
But he warned the protocols firms have spent weeks putting together will be here for months to come.
He added: "Are these rules going to disappear overnight? No. Are they with us for some time to come? For sure they are."
On Monday the government's chief medical adviser, Prof Chris Whitty, warned that if people started behaving as before the virus, then it would trigger a second wave of the disease.
Prime minister Boris Johnson on Monday told the house of commons that people should keep two metres apart where possible, but "where it is not we will advise people to keep a social distance of 1m plus, meaning they should remain 1m apart while taking mitigations to reduce risk of transmission."
These mitigations include using protective screens and face coverings, closing non-essential social spaces, providing hand sanitizer and changing shift patterns so that staff work in set teams.
A report by construction firm Mace last week warned that site output would not improve from the current level while the 2m rule remained in place.
Mitchell also called on the industry not revert to bad practices as contract disputes inevitably arose from the coronavirus crisis.
Typical issues have centred on extension of time, who forks out for the extra cost of implementing social distancing procedures and who foots the bill when a job busts its deadline.
Mitchell, who is also boss of the Thames Tideway super sewer project, said: "No-one's going to win if we resort to conflict or resort to practices that are going to hurt other people."
But he admitted his words might fall on deaf ears: "It's all very well to take a high-minded stance on that but when firms are on the brink of going under it's not always easy to do the right thing. As the reality continues, I can understand why it's getting to be tough for people to continue doing the right thing."
Reacting to Johnson's announcement, the chief executive of the Civil Engineering Contractors Association Alasdair Reisner said: "We still have a responsibility to play our part in stopping the spread of the disease, therefore companies will continue to be careful to manage employees potential exposure"
Wales, Scotland and Northern Ireland will adjust social distancing rules "at their own pace," the prime minister said on Monday, though he maintained that "all parts of the UK are now travelling in the same direction."