Development in Hanwell, west London, features 53% affordable housing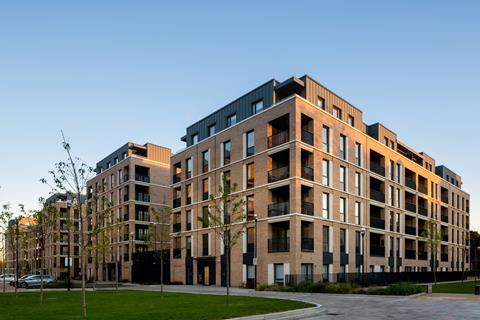 Catalyst housing association has taken delivery of a £50m scheme in west London which features more than 250 homes.
Built by contractor Higgins for Catalyst, a member of the G15 group, and designed by Hester Architects, 266 homes are spread across six blocks on the site of St Bernard's hospital in Hanwell, which opened in 1831 as an insane asylum for the poor.
The development features 126 homes for market sale, 98 shared-ownership, 22 for social rent and 20 at the London living rent level.
Higgins said the scheme had 53% affordable housing, while it retained a number of historic features, including three grade II-listed buildings, one of which is a gatehouse that dates back to when the hospital was built.
"The design and layout of the new buildings were developed so they did not distract from the character of the listed buildings and each building blends in seamlessly without compromising on style, regardless of tenure," the firm added.